PAN advocates ban on imported cars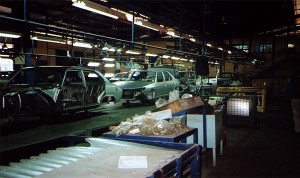 For local companies to make appreciable impact in creating job opportunities to the teeming unemployed in the country, government has to come up with measures that will protect their interest in order to operate in a viable environment for effective service delivery, the Managing Director of Peugeot Automobile of Nigeria (PAN), Alhaji Ibrahim Boi has observed.
Making the assertion in a media parley with newsmen when he led management staff of the company to Nigeria Union of Journalists office in Kaduna, he noted that a company like PAN could not compete with other companies from other parts of the world that import their vehicles into the country, whose products are cheaper than PAN products in spite of its contribution to the nation's economy.
"Today, the country has other vehicles that are being imported to the detriment of PAN and could be sold at cheaper rates than PAN products," he said.
He lamented the financial problems PAN found itself with 80 per cent of its shares being taken over by Asset Management Company of Nigeria (AMCON). He said that in spite of the initial 4000 workforce the company had to reduce the workforce to about 200 following its financial predicament.
The primary objective of the company at the moment, he said, was to restore its loss glory and create job opportunities to Nigerians with a view of contributing to development of the country.
He called on government to take proactive measures to ban the importation of new cars in the country and ensure that a good concession is given to PAN to be able to reposition itself and to contribute positively to the growth of the country's economy.
The management of the company, he noted, was working round the clock to ensure the training of its workforce, and to be able to compete favorably with other international companies in the assembling of cars of international standard.
Alhaji Ibrahim Boi explained that PAN was negotiating on ways to restore its relationship with Peugeot France to expand and consolidate its relationship to enable them assemble vehicles in the country, stressing that it was not possible to assemble vehicles in the country because the government had not protected the local industry yet.