Teasy Mobile Money partners with NURTW to drive cashless economy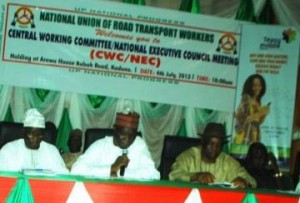 As part of its mandate in facilitating the cashless policy initiated by the Central Bank of Nigeria, Teasy Mobile Money, a recently licensed mobile financial institution in Nigeria, has gone into strategic partnership with National Union of Road Transport Workers (NURTW).
The agreement between NURTW and Teasy International was signed in July at the NURTW National headquarters, Abuja.
The alliance is expected to further drive financial inclusion, which allows the average Nigerian have access to formal financial services with ease and convenience through the use of mobile phones and also at close proximity such as the nearest motor parks.
National President of the Union, Alhaji Najeem Usman Yasin, at the National Executive Council Meeting held at Arewa House in Kaduna on July 4th 2013, stated that "I am honoured to inform you that the executives of this great union have signed an agreement with Teasy International Company Limited (Teasy Mobile Money) on behalf of NURTW.
"Teasy is licensed by CBN and a member of the Association of Licensed Mobile Payment Operators. The partnership will ensure better efficiency and safety in the money transfer business – and as we move towards Cashless Economy, this will solve many other concerns that we have about the policy.
Usman added that "We know that money transfer makes money for our branches. But as a financial service, it must be regulated by the appropriate government body (CBN). So in conforming with the laws, we have decided to partner with a financial service provider that is licensed by the CBN (Teasy Mobile Money to carry out such services)."
On his part, Managing Director, Teasy Mobile Money, Mr. Musa Ali Baba highlighted the importance of the partnership in deepening access to financial service in the country.
With Teasy Mobile Money, customers now have a product that allows them to save, spend, and transfer money using their mobile phones.
The partnership with NURTW allows for customers of the service to deposit or withdraw money at all NURTW motor parks in the country. This is to ease the challenge of distance or cost of getting to a commercial bank.