Starcomms shareholders give nod to $210 million acquisition by Capcom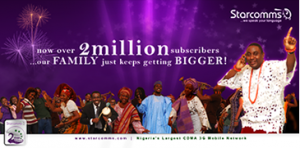 In its quest to become a key driver and player in the mobile technology Industry, Starcomms Nigeria Networks Limited is set to re-strategize its business direction as its shareholders have approved the whooping $210 million deal, ceding it to Capcom Group.
Prior to this development, Starcomms has been on the background in terms of competition in the fast growing telecommunications Industry which started in year 2001 in Nigeria. Since the competition started more than a decade ago, remarkable growth from making phone calls to data usage and downloading services in the Industry have been noticed.
With determination that it can breakthrough the valuable mobile market in Nigeria, The Shareholders on December 28,2012 had voted overwhelmingly to support its acquisition.
The Agreement sealed by the signing of documents, confirmed the seriousness of the Capcom Group to buy majority stake in the Starcomms Networks Nigeria Limited. It also created another chapter in the potentials of the sector to woo more Investments into the Country.
Apart from Starcomms Group, Capcom had stated to show interest in Investing heavily in the Innovative Code Division Multiple Access (CDMA) technology of three networks in the country, believing it is viable and has great prospects for improving mobile technology.
Starcomms further revealed that "the shareholder approvals at the court-ordered meeting now require the High Court's ratification and the transaction thereafter remains subject to a number of conditions precedent as outlined in the scheme document including but not limited to final regulatory approval from the Nigerian Communications Commission (NCC), Nigeria Stock Exchange (NSE) and Securities and Exchange Commission (SEC)". This was disclosed by the chief executive officer of Starcomms.