Heritage confirms full payment for Enterprise Bank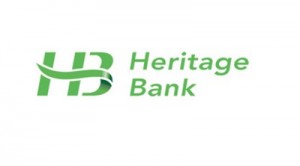 Heritage Bank's investment arm, HBCL Investment Services, Wednesday night disclosed that it had paid the 80 per cent balance of N44.8 billion into the account of AMCON.
The bank made the announcement through its public relations agency, PR Redline.
Lekan Isola, its managing director, confirmed to Leadership Newspaper, transfer of the balance into AMCON's account from Heritage's First Bank account.
The deadline had been extended by two days from the initial date of Monday, October 13 to Wednesday, October 15 to make up for the two days public holiday to mark Muslim festival, Eid-el-Kabir.
HBCL's investment arm had emerged the preferred bidder for Enterprise Bank last week, 15 months after the bank had been put on sale, and had signed the Share Purchase Agreement (SPA) with AMCON, paying off the initial deposit, two days before the September 21 date.
Heritage Bank, former Societe Generale Bank of Nigeria, had been announced as the preferred bidder over Fidelity Bank and 22 other interested investors by AMCON.
Heritage Bank bought the bank under its investment subsidiary, HBCL Investment Services Limited and would now acquire the entire issued and fully paid up ordinary shares of Enterprise Bank Limited, following the approval of the board of directors of AMCON.
The statement by AMCON noted that the emergence of HISL and Fidelity Bank as the preferred and reserve bidders respectively resulted from a rigorous and competitive bidding process, coordinated by its financial and legal advisers, Citigroup Global Markets Limited and Vetiva Capital Management Limited and G. Elias & Co.
Enterprise Bank commenced operation in August, 2011, as a full-service commercial bank with a national banking license, after it was nationalized and acquired by AMCON.
The Bank operates via a sizeable distribution network of over 160 branches spread across major markets and commercial centres in Nigeria, and with over 177 ATMs, 57 Cash Centres and 2,000 POS terminals.