Indian auto giants to set up plants in Nigeria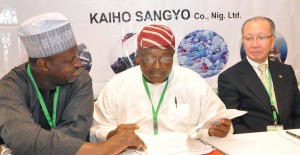 Two vehicle manufacturing companies from India, TATA and TVS Motor Company, on Friday indicated their interest to establish automotive plants in the country.
This is contained in a statement issued in Abuja by the Principal Executive Officer (Information) of the National Automotive Council (NAC), Mr Bello Rasheed.
The statement said that top management executives of both companies made their intentions known during separate visits to the Director General of NAC, Mr Aminu Jalal, in Abuja.
According to the statement, the TATA delegation comprised Messrs P. Gangadharan, N. Menon and Fred Obi, while the TVS team included Messrs K. Srinivasan, J. Vignesh and Rajan Menon.
It quoted the representatives as saying that both companies were encouraged by the new National Automotive Industry Development Plan (NAIDP) approved late last year by the Federal Government.
Among other needed information, the statement said that the visitors were provided with the technical details, administrative requirements and NAIDP guidelines for setting up vehicle industrial plants in the country.
"Established in 1945, TATA Motors is the world's fifth truck manufacturer and India's largest automobile maker with products ranging from cars, buses, utility vehicles, SUVs, trucks, armoured and military vehicles.
"It is also the new owner of Land Rover and Jaguar brands.
"Similarly, TVS Motors manufactures a wide range of motor cycles and three-wheelers. It is among the world's top ten two-wheeler manufacturer,'' the statement said. (NAN)