Abia State Government signs MoU with Honeywell Group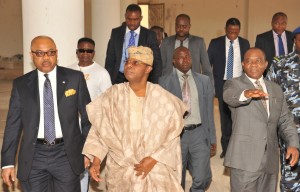 The investment drive of Abia State Governor, Chief Theodore Orji, has continued to yield positive results with the latest signing of a Memorandum of Understanding on agro-allied and solid minerals between the state government and Honeywell Group.
The MoU covers the the establishment of a cement factory in Arochukwu as well as development of the state's agricultural sector.
Speaking during the signing of the MOU at the Government House, Umuahia, an elated Governor Orji who thanked the Honeywell Group for coming to invest in God's Own State, said the state was endowed with huge human and material resources.
Governor Orji assured the company of his government's readiness and cooperation to ensure that the objectives for signing the MoU were fully realized at the end of the day.
Though he said his administration has had a nasty experience in the past in its bid to develop the state through a Public Private Partnership initiative, he said that his government has reengineered itself to forge ahead and has decided to do business only with investors with proven track record.
He thanked the chairman of the Honeywell Group, Dr.Oba Otudeko for coming personally to sign the agreement,saying that it is an indication that he is reliable and willing to perform.
Dr. Otudeko who said his company was strong in food and agro allied business, energy, real estate and services as well as infrastructure, said that they have been eyeing Abia State because of her rich agricultural and human resources.
The chairman of the Honeywell Group who stated that the company was fully committed to working with the Abia State government under a PPP arrangement noted that prevailing peace in Abia made it possible for the company to decide to invest in the state.
According to him, his company was determined to partner with Abia State government because of genuine commitment demonstrated by Governor Orji-led government in transforming the state.
The Economic Adviser to the Governor, Mr. Chijoke Nwakodo, who disclosed that 5000 direct jobs will be created in the state through the company's investments added that about 10 million US dollars would be injected into the state.
He commended the governor for the laudable achievements he has recorded in the state and for caring for his people.