Utomi denies funding presidential campaign with Bank PHB money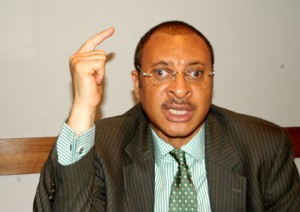 Prof. Pat Utomi on Tuesday denied that he funded his 2007 election campaign with loans obtained from the former Bank PHB.
Utomi, a former Executive Director of the bank, was also presidential candidate of the African Democratic Congress Party in the 2007 election.
He made the denial while testifying at the trial of a former Managing Director of the bank, Francis Atuche, and his wife, Elizabeth.
The Atuches are being prosecuted, alongside a former Chief Financial Officer of the bank, Ugo Anyanwu, before Justice Lateefat Okunnu of an Ikeja High Court.
The Economic and Financial Crimes Commission (EFCC) charged the Atuches and Anyanwu to court for allegedly stealing N25.7 billion belonging to Bank PHB (now Keystone Bank).
EFCC counsel, Mr Kemi Pinheiro (SAN), while cross-examining Utomi, alleged that Bank PHB had granted a N2.7 billion loan to Baywood Continental Ltd. between 2006 and 2007.
Pinheiro said Utomi was the board chairman of the company and he had used the money to fund his campaign.
"The loan facility granted to Baywood Continental coincided with the period of your presidential campaign.
"The period of disbursement also coincided with your campaign.
"Baywood was never listed as a debtor on Bank PHB's books until the CBN intervention, after which the company was listed as a major debtor to the bank," he said.
Utomi, however, denied the allegation, saying he was not aware that the company was granted the said credit facility.
He said :" I find that insinuation inappropriate and untrue. The total amount spent on my campaign was just under N30 million which is public knowledge."
Pinhero also queried Utomi about his knowledge of the N17 billion cheque kiting fraud which happened at Bank PHB during Atuche's era.
He said the attention of then President Umaru Yar'Adua was drawn to the matter as a result of the magnitude of the fraud which could have collapsed the bank.
Responding, Utomi said that the late Yar'Adua's interest in the matter was personal.
Utomi also dismissed Pinheiro's suggestion that he had failed to manage some companies where he acted in advisory management capacity.
He insisted that Baywood Continental, Volkswagen Nigeria Ltd., and Bank PHB, were not moribund as claimed by the EFCC counsel.
The witness said that Bank PHB still existed across the country but with new labels.
"As for Volkswagen, the decision to scrap the company was made one year before I joined the company. There are records to show that," he said.
NAN reports that the matter was adjourned till Sept.20 for further cross-examination. (NAN)