FCTA, Capital Meat sign N1.25bn agreement for Abuja Central Abattoir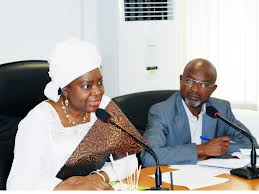 The Federal Capital Territory Administration has signed a memorandum of understanding and lease agreement with a private investor, Capital Meat Processing Company Nigeria Limited for the establishment of ultra-modern Abuja Central Abattoir at Tungan Maje in Gwagwalada Area Council of the territory.
The agreement valued at N1.25 billion was signed by the Honourable Minister of State for FCT, Oloye Olajumoke Akinjide and Secretary, FCT Agriculture and Rural Development Secretariat, Mrs. Olvadi Bema Madayi on behalf of the FCT Administration while the Chairman of Capital Meat Processing Company Limited, Dr. Umaru Mutallab and the Chief Executive Officer, Mr. Aliyu El-Nafatu, signed for the company.
Akinjide, who explained that the central abattoir would be constructed based on public private partnership management, said the project would be completed and operational within a period of 12 months.
She noted that the construction of the ultra-modern Abuja central abattoir became imperative in order to ensure that FCT residents consume beef prepared in hygienic environment.
"When completed, the abattoir will have the capacity of slaughtering 500 heads of cattle and 1,500 sheep and goat per day. In the meat processing and fabrication component, about 40 tonnes of meat would be processed into about 10 number products such as sausages, hotdogs, steaks, premium and briskets, among others.
"It is expected that when fully operational about 1,000 jobs would be created including professionals like veterinarians, para-veterinarians, livestock officers, butchers, technicians, labourers and drivers, among others," the minister disclosed.
She added that the foreign technical partners of the private investor would transfer meat processing technology to their Nigerian partners and also train the Nigerian personnel in the art of processing, curing, aging, fabrication, storage and packaging of meat.
The minister assured that the new abattoir would be of international standard and would meet the requirements of the World Health Organisation and Food and Agriculture Organisation.
Responding on behalf of the private investor, the Chairman of Capital Meat Processing Company Limited, Dr. Umaru Mutallab, commended the FCT Administration for its determination and commitment to ensure a hygienic environment for meat processing in the territory.
"Our interest in establishing an ultra-modern abattoir stems from the need to ensure that the public consume hygiene food in the FCT. We assure all stakeholders of our determination to make this work," Mutallab stated.
Signed:
Oluyinka Akintunde
Special Assistant (Media & Publicity) to the Hon. Minister of State for FCT
15th September, 2013