GTBank and SCB coordinate $6.75bn debt financing for Dangote's refinery, fertilizer projects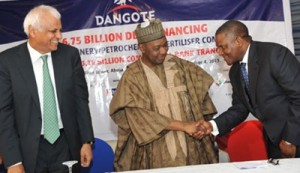 Dangote Industries Limited on Wednesday, 4th September 2013 signed a loan agreement with a consortium of both local and international banks to the tune of $3.3billion for the purpose of constructing the biggest Petroleum Oil Refinery & Petrochemical/ Fertilizer Plants in Nigeria.
The plants, which will cost a total of $9 billion will generate up to 9,500 direct and 25,000 indirect jobs, in addition to reducing current volumes of refined fuel imports by around 50 per cent and effectively stopping the importation of fertilizer.
The USD9billion project will be financed by USD3billion equity and USD6billiion loan capital. The signing ceremony commits the first tranche of loans secured by Dangote, comprising a USD3.3billion term loan facility supported by a consortium of 12 local and international banks. This first facility was jointly co-ordinated by Standard Chartered Bank as the Global Coordinator, and Nigeria's Guaranty Trust Bank plc as the Local Coordinator.
With the refining capacity expected to reach 400,000 barrels of crude oil per day and producing a variety of refined fuel products from local crude resources, Nigeria will cut its current volumes of imported fuel products by a massive 50 per cent. The 2.8 million tonnes of urea will be channelled into growing the local agriculture sector which is essential in producing healthy crops and promoting Nigeria and West Africa's agricultural development. The Petrochemical plant will produce Polypropylene which is a common component of most plastic and fabric products, for example it is used in various forms of packaging, ropes and agro-sacks.
President of Dangote Group, Aliko Dangote said: "This plant will further entrench Africa's role on the global map as not only a valued contributor for natural resources, but also a competent manufacturer of refined products and fertilizer. As a result, several African nations will be less reliant on importing fuel and fertilizer from foreign markets, reducing the negative impact of negotiating terms within increasingly turbulent international markets."
In the same vein, CEO of Standard Chartered Bank in Nigeria, Ms Bola Adesola, added: "Standard Chartered is proud to support the Dangote Group in a project which will significantly boost Nigeria's economic productivity and create valuable jobs with specialist skills from key growth sectors. This project is an historic example of self-empowerment and leadership for the continent as a whole – and is made possible through effective partnerships between the Nigerian private sector, Government and international financial institutions. Standard Chartered remains committed to being here for good in Nigeria, and the region."
According to Segun Agbaje, Managing Director/CEO of Guaranty Trust Bank plc, this is the largest syndication by Banks in Nigeria and it is being undertaken with the knowledge that the successful implementation of Dangote Refinery and Fertilizer project will have far reaching implications for Nigeria's economic growth.
Segun Agbaje further stated that GTBank is very proud to be associated with Dangote Industries on this landmark project and praised its Chairman; Alhaji Aliko Dangote for his steadfastness, hard work and genuine desire to see remarkable economic improvement within the country
The Dangote Group's main revenue and profit contributor is Dangote Cement Plc (DCP), the leading integrated cement producer in Sub Saharan Africa and largest company on the Nigerian Stock Exchange. Given the cement subsidiary's strong market share along with its higher profit margins, DCP has been able to maintain a robust financial position, and thus assist in leveraging the Group on a conservative basis to undertake expansion projects on this large scale.
Other participating banks are Access Bank PLC, Zenith Bank PLC, Ecobank Nigeria Limited, Fidelity Bank PLC. First Bank Nigeria Limited, Standard Bank of South Africa Limited, UBA PLC, FirstRand Bank, First City Monument Bank PLC and Diamond Bank PLC.