Sanusi Appointed Chairman Of West African Monetary Zone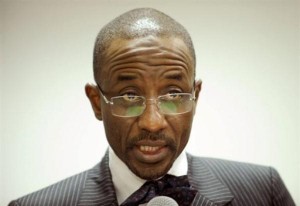 The Central Bank Governor, Mr. Lamido Sanusi, has been appointed the Chairman of the West African Monetary Zone (WAMZ).
The WAMZ is a unification of six countries comprising Nigeria, Sierra Leone, Gambia, Ghana, Guinea and Liberia, with the goal of setting up a singular currency system. The proposed currency named the Eco is slated to take off by 2015.
Sanusi's appointment was announced at the committee of Governors at their 28th meeting in Abuja recently.
In his keynote address delivered after his appointment, Sanusi called for an intensification of efforts to sensitize all the stakeholders so the plan does not fail.
He said, "The recent experiences of the Euro zone should provide the need for serious caution on our part and a comprehensive re-appraisal of existing framework of monetary union.
"With only two years to the set deadline for the formal take-off of the project, there is need for the intensification of efforts in the area of sensitisation of all stakeholders."
Sanusi took over from the former chairman, Dr. Joseph Jones.