FG insist Nigerian farmers need cell phones irrespective of criticisms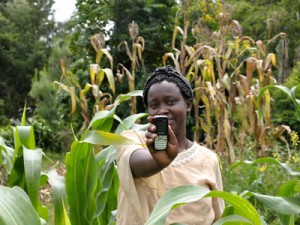 The Federal Government is bent at getting 10 million cell phones for farmers in the country irrespective of huge criticisms it has received.
Speaking on the issue, the Minister of Agriculture, Dr. Akinwunmi Adesina said the farmers really need the cell phones. He disclosed this during a press briefing in Abuja yesterday.
He said it was rather unfortunate that the media had exaggerated and blown the issue out of proportion, saying the FG wanted to spend N60bn.
He added that the FG has decided to "rebuild the broken walls of Nigeria's agriculture and unlock wealth and opportunities for farmers."
Adesina declared FG resolve to make lives of farmers better. He said when he assumed office in 2011, corruption was at its peak in the ministry as the government was spending huge sums of money for production and distribution of fertilizers to farmers, but less than 11 per cent of farmers really had access to it.
Adding he said, the sector was so corrupt that only intermediaries and rent seekers benefited from the billions the government spent yearly on providing subsidies within the sector.
He saw the need to clean up the sector and make things right, which is what he is doing currently.
The Minister said the sector had achieved high level of success in eliminating corruption and fixing things, which was partly done by making available subsidized fertilizer of good quality and seeds to farmers through the introduction of Growth Enhancement (GE) Support scheme in April 2012
He praised the success of the GE scheme:
"In the first year of the GES scheme, 1.2 million farmers received their subsidised fertilizers and seeds via their cell phones. We expect to have reached 1.5 million farmers by the end of the dry season. Let me say that this singular effort to get inputs to farmers directly resulted in the addition of an estimated 8.1 million metric tonnes of food to the domestic food supply."
Adding he said, rural farmers benefited mostly from the scheme, which was its original intention on inception in April 2012.