SEC Withdraws License Of Capital Market Operators (LIST)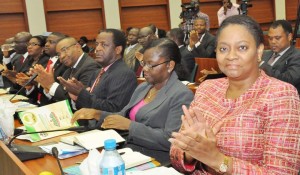 The general public is hereby notified that the registration of the underlisted Capital Market Operators have been withdrawn.
The Nigerian Stock Exchange (NSE), the Chartered Institute of Stockbrokers (CIS), the Institute of Capital Market Registrars (ICMR) and the Central Securities Clearing Systems Ltd (CSCS) are hereby directed to desist from dealing with them.
This action is to protect the interest of the investing public.
The companies are:
1. AAA Stockbrokers Ltd
2. Alliance Capital Management Co. Ltd
3. Apex Securities Ltd
4. Asset Plus Securities Ltd
5. BFCL Assets Securities Ltd
6. BACAD Finance & Investment Co. Ltd
7. BIC Securities Ltd
8. City Finance & Securities Lt
9. Colvia Securities Ltd
10. Epic Investment Trust Ltd
11. Equator Securities & Finance Ltd
12. First Atlantic Securities Ltd
13. Folu Securities Ltd
14. Genesis Securities Ltd
15. New Horizons Securities Ltd
16. H.P. Securities Ltd
17. Ideal Securities & Investment Ltd
18. Indemnity Finance Ltd
19. Imperial Securities & Investment Ltd
20. Jamko Investments Ltd
21. Jenkins Investments Ltd
22. Midland Capital Markets Ltd
23. Midlands Investment & Trust Co. Ltd
24. Morgan Trust & Asset Management Plc
25. Richmond Securities Ltd
26. Riverside Trust Ltd
27. Rivtrust Securities Ltd
28. Standard Alliance Money Ltd
29. Sikon Securities & Investment Trust Ltd
30. Transglobe Investment & Finance Ltd
31. Thomas Kingsley Securities Ltd
32. TMB Securities Ltd
33. Tropics Securities Ltd
34. Primewealth Securities Ltd
35. Negotiable Finance Ltd

Shareholders that still have their portfolios under the listed capital market operators are advised to contact the CSCS Ltd to transfer their shares to any stockbroker of their choice.