Nigerians Advised To Participate In Fortunes Of Nigerian Stock Exchange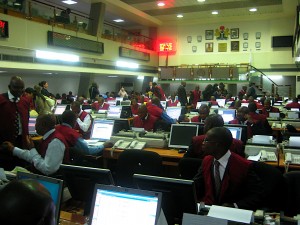 Nigerians have been advised to invest in the equities market as the market is now one of the best performing markets in the world.
Analysts lamented a situation where the gains of the market are being enjoyed by a majority of foreign institutional investors.
Over 70% of the investments in the NSE last year were made by foreigners.
The market recorded a performance of 35% last year and the trajectory is expected to continue especially in the banking and consumer goods sectors.
Analysts from Partnership Investment Company Plc advised Nigerians to contact their stockbrokers.
The analysts said, "The market is still expected to maintain this bullish trend for sometime as bargain hunting activities continue; however, many equities are currently trading above their book value. Investors need to look beyond price to also consider future value before taking a buy decision. Opportunity for profit taking should not be disregarded.
"We maintain that investors should ensure that their portfolio is rebalanced appropriately, while ensuring a diversified portfolio based on stocks with good fundamentals. Risk appetite and return expectation should be a major consideration."