Stock Market Rises To 32 Month High In 2012, Momentum Expected To Continue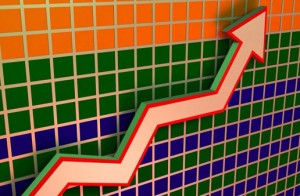 The Nigerian Stock Exchange rose to a 32 month high in 2012, and the positive performance is expected to continue in 2013.
The All Share Index returned to performance levels not seen since 2007. The performance in the bourse was led by growth in the banking and consumer goods sector.
Analysts across the board expect the positive trend to continue.
"With continued interest in financials and consumer goods, we expect the market to extend gains into the New Year," analysts at Vetiva Capital, said in a note, adding that banks will lead the charge in 2013.
According to the MD of Lambeth Trust and investment, David Adonri, "It is one of the best performing markets in the world. Recovery of the Secondary Market for equities has however not translated yet to reactivation of the Primary Market. While the Primary Market for bonds has been very active, the world class Secondary Market bonds platform of The NSE remains dormant."
The Nigerian Naira also appreciated 1.8% against the Dollar in 2012.