Inflation Soars To 12.3% In November, Driven By Higher Food Prices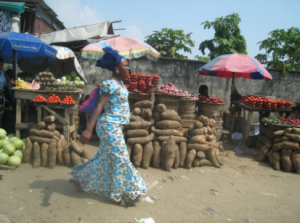 For Nigerians that may be wondering why the price of foodstuffs has experienced an astronomical progression, it has  been confirmed that the post flooding effect that adversely affected  food production in the country, constituted  a major factor to the new trend .
Inflation  rate soared to 12.3 percent in November from the 11.7 percent level in the month of October a National Bureau of Statistics analysis revealed. This is the highest since the month of July.
Consumer Index also showed that food inflation peaked at 11.6 percent in November, ahead of the 11.1 percent in the month of October, revealing how the unfortunate flood incident in the country stifled the markets.
The recent flooding , the worst in 50  years, slowed the  normal process of transportation of foodstuffs from the north to the south, thereby creating the condition for the rising cost of  food in the market.
This brings a reminisce of the  Chinese floods of late 2006/07 that slowed production of rice, thereby revealing a high cost for nations that import rice creating food crisis concerns during the period.
From the analysis of the NBS the inflation  level has affected the  value on economic investments in the country.  Stressing the 12.3 percent current inflation rate, the bureau  said drastic steps must be taken to stabilize the Treasury bills and Bonds markets which have experienced increased subscription this year.
The Central Bank of Nigeria has continued to hold the interest rate at 12 percent not flinching as it has been defiant over calls  to reduce lending costs noting that the inflation fears drove the decision of the apex bank.
Rise in food prices of  bread and cereals have once again attested to the impact of  the inflation,also affected by the price hike are the cost of gari, potato, yams, fish, vegetables due to the dry season period after the flood.