Nigeria Ranked World's Seventh In Money Laundering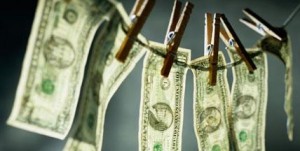 The quest by the Federal Government to tackle corruption squarely received another challenge as a recent report from the U.S based Strategic Study and Advocacy Group the Global Financial Integrity recently rated Nigeria in the first 10 leading nations in the incidence of money laundering.
This practice has been one of the major tasks the Economic Financial Crimes Commission (EFCC) has had to combat as the past five years have witnessed unprecedented cases of money laundering involving former governors, legislators, cabinet members and captains of Industry.
It will be recalled that banking tsunami of 2009 saw heads of leading banks then in the country, indicted for amongst other charges money laundering. Most of their assets identified were seized or frozen.
Former military dictator, late General Sani Abacha also had a phenomenal track record of money laundering with foreign accounts he opened in the Swiss Banks amounting to billions of dollars.
This report which rated China as number 1 in the money laundering cases with $274 billion average per year, showed once again how the scheme employed by greedy politicians and businessmen especially in the third world has contributed to the undervelopment of their countries.
Nigeria for example would have experienced significant changes, transformation and development if the money laundering cases of some politicians and businessmen had been given severe judgements and prosecution, which would have served as a deterrent to others.
The report according to the GFI Director Mr Raymond Baker states that "Astronomical sums of dirty money continue to flow out of the developing world and into offshore tax havens and developed country banks. Regardless of the methodology, it's clear: developing economies are haemorrhaging more and more money at a time when rich and poor nations alike are struggling to spur economic growth. This report should be a wake-up call to world leaders that more must be done to address these harmful outflows."
The Group called for more transparency from Governments in the third world countries and more rigorous reforms in the financial institutions that will curtail and prevent any excesses carried out by banks in their operations especially when it has to do with foreign transactions.