Crime Watch: EFCC Seized N15.5b at airports – Lamorde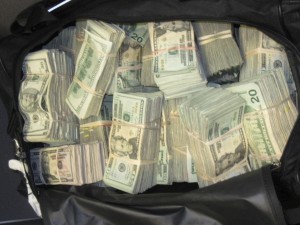 The Economic and Financial Crimes Commission (EFCC) Chairman Ibrahim Lamorde yesterday said this year alone the commission has intercepted N15.5 billion at the nation's airports.
Speaking at the 2012 International Anti-Corruption Day celebrations, with the theme "ACT….Help Detect Corruption Risks today," he said they have filled filed 353 cases at various courts and recorded about 53 convictions so far.
The event was organised by the Inter –Agency Task Team (IATT), an umbrella of anti –corruption agencies.
Lamorde said the "amount represented physical cash, and not legitimate cash transfer through the financial institutions, taken out through the nation's airports."
In a statement the Head of Media and Publicity, Mr. Wilson Uwujaren, said between January and August they have intercepted N14billion being couriered outside the country.
He said the institution of a special task force Team, which is a joint patrol of the airport by EFCC operatives and Nigerian Customs officers, which began in September 2012, has gone very well, adding that within the short period of time the task force has  helped the arrest of illegal cash courier with over $9million.
He traced the illegal transfer and corruption to gluttony, heartlessness, and stinginess of the people involved.
According to Lamorde "Corruption is one of the reasons Nigeria has not been able to make progress, socially, politically and economically and we have all agreed that corruption cannot be sustained in Nigeria, all of us must come together to fight corruption."
He said within this year alone, the Commission filed about 353 cases at different courts across the country and had recorded about 53 convictions so far.
Lamorde said, "Criminal procedure rather than judiciary should be blamed for the problem of slow pace of trial of corruption cases.
"Somebody cannot steal from you and expect that the law should protect him against you the victim of his crime. Something has to be done. I pray that the new leadership of the judiciary will be able to do something."
He called on the government to create a special court to take on corruption cases.
"Judges are either transferred or the witnesses dead. It is not fair on the anti-corruption agencies to say they are delaying cases, he added.
"Let cases not last forever. If you think there is no case, please discharge the person but where the person has a case to answer, the case should be concluded in good time."
The IATT Chairman, Mr. Ledum Mitee, said many things are causing the fight against corruption to remain stagnant in this country.
He said factors like poor funding and coordination, weak anti-corruption institutions in terms of capacity, failure of leadership at all levels to genuinely talk the talk and walk the walk and the need for a more concerted effort in ensuring synergy in the operations of Anti-Corruption Agencies.
Mitee said, "However, we cannot continue on this path. We must steer the ship aright. With the establishment of the Inter-Agency Task Team (IATT), synergy is being built among the anti-corruption agencies; the era of individual turf is waning, giving room for possible joint investigations and prosecutions which in turn is expected to result in effective sanctions and prevention of corruption."
Mitee added that another way corruption could be collectively and systematically addressed "is by adopting a Holistic National Strategy to Combat Corruption. In addition, I understand that the IATT has developed a draft National Strategy document. This document is most encouraging and should be given every push for adoption by the Federal Government."