Segun Oyebanji: Vice-President Sambo's N2 billion Crib and Nigeria's Housing Deficit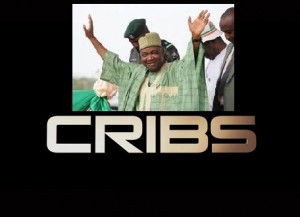 Out of a proposed N50 billion 2013 budget for the Federal Capital Territory, Vice-President Sambo's house is expected to gulp N2 billion. It is stated in the budget that the money is for the construction of an "official" residence for the Vice President, because where he currently lives is not official. In any event 4% of the budget for over 5 million people is being allocated for one mans residence.
With all the lavish spending on banquet halls and homes in 2012 and 2013, one could deduce that perhaps MTV cribs have called Aso Rock to say that they're coming to feature some cribs, but only "official" cribs would make the cut.
An official crib is a crib that is inflated in cost, extravagance and security. After all what is the use of building an official crib that's not more closely guarded than Jaji or SARS headquarters.
FCT Minister Bala Mohammed defended the budget before the Senate despite the fact that according to the United NAtions Habitat Estimates, N2 billion can provide accommodation for 2 million Nigerians.
The Presidency prefers to build one N2 billion home instead of housing 2 million Nigerians. Why? Because it is building a crib after the order of a wonder resort which can be given to Sambo as a parting gift after the tenure of the sitting government must have expired.
The FCT budget for this year also includes a N300 million for the design and construction of houses for Senate President and his Deputy, David Mark and Ike Ekweremadu; as well as Speaker of the House, Aminu Tambuwal and Emeka Ihedioha, his deputy.
This is despite the fact that David Mark and Dimeji Bankole were sold their old official residence at a give away price, only two years ago.
Nigerians are undoubtedly at the mercy of one of the most extravagant governments in the world. There is lack of infrastructure, public services, and honest public officials and yet our leaders continuouslt gorge themselves fat with the collective oil wealth of the people.
Most irritating are the leaders who also buy N100 million homes for their girlfriends who sometimes are not even through with university yet.
There is the case of an ex-governor  currently sitting in a jail abroad. He bought a crib in high-brow Abuja for his 22 year old college dropout girlfriend who is now pursuing a singing career abroad.
These and many more stories abound, yet the people are homeless and according to the World Bank, defecating in the open. Perhaps one day the stench will reach the banquet halls of Aso Rock and choke the callous leaders out of their comfort zones.