Standard & Poors Rates GTBank Stable, Highlights Strengths and Weaknesses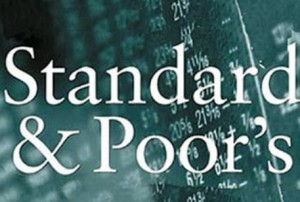 International Ratings Agency, Standards & Poors released a report on GTBank today. The agency rated the bank BB-/Stable/B, and rated key metrics such as Business Position and Risk Position, Adequate.
The agency highlighted the banks strengths, namely that the bank posseses,
a strong franchise in top-tier corporate banking in Nigeria;
Capitalization supported by strong earnings capacity, and
Diversified funding sources and strong liquidity indicators
On the flip side, the agency highlighted weaknesses which were stated to be:
 High economic and industry risk associated with operating in Nigeria;
Limited geographic and business diversification; and
Lending concentration in loan portfolio.
The report said, "Standard & Poor's Ratings Services' stable outlook on Guaranty Trust Bank PLC (GTB) reflects the stable economic environment and our view that the bank's business and financial profiles will remain relatively unchanged over the next 12 months. In our view, the positive economic prospects in Nigeria will further support GTB's business relationships and earnings capacity. We anticipate that GTB's capitalization will increase slightly over the next 12-18 months owing to a strong earning capacity coming from high margins and low cost of risk. We also assume that GTB will maintain its stable funding and liquidity profile.
"We would raise the ratings on GTB if the bank's sector and single-name concentrations were to reduce, as well as if its cost of risk becomes significantly lower than sector peers. An upgrade would also require the long-term foreign currency sovereign ratings to be raised.
"We could lower the ratings on GTB if its financial profile were to deteriorate significantly. Although unlikely, this could follow a sharp deterioration of asset quality or a change in risk appetite. A sovereign downgrade would trigger a downgrade of the bank."