Boniface Godspower: The Aso Rock Landlord and a Five Trillion Naira Heist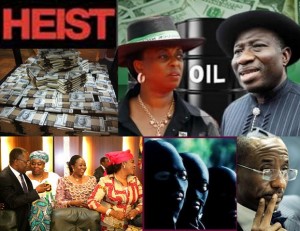 "An end to corruption and lots of fresh air", his statement was one of President Goodluck Ebele Jonathan's campaign promises whilst running for office in 2011. Little did Nigerians know the corruption had already started in earnest whilst he was Acting President after the death of his predecessor Umaru Yaradua.
Under the reign of Yaradua, corruption was at a level not seen in at least a decade with the triumvirate of Attorney General Aoondaka, Chief James Ibori and former EFCC boss Farida Waziri. There were a host of other equally corrupt officials that superintended over the looting of billions and billions of the commonwealth of the Nigerian people, however by latest accounts, the Jonathan administration is the record-breaker.
Sunday Punch today disclosed after series of investigation that over N5 trillion has been looted since President Jonathan became the landlord at Aso Rock. The money didn't simply vanish into thin air but has been a result of a methodical and reckless looting of the common resources of the Nigerian people by a group of callous and grotesquely selfish leaders who have distanced themselves from the term 'ordinary Nigerians'.
Even among the political elite, there is a hierarchy in social standing and office holders at the topmost levels are struggling to 'out-loot' one another. If a minister steals N100 billion today, then another must steal N200 billion tomorrow. They gather at the Federal Executive Council meetings and share the plunder. The plunder that is too juicy to be shared at that forum is shared in more inner sanctums at the Aso Villa.
Jonathan says he is fighting corruption but how can he explain the fact that his Trade and investment minister reported a heist of $1.6 billion in 3 months where his signature was forged in order to effect the stealing. The oil cabal in this administration makes the subsidy thieves look like petty criminals. This present dispensation of kleptocrats are no longer stealing, they are hauling whale-sized lump sums, whilst the landlord of Aso Rock conveniently looks the other way.
It is their turn to steal undoubtedly, but if anyone fancies that Jonathan should secure a second term after all this looting, then perhaps such a person is clinically insane.
The Sunday Punch exclusive can be viewed here.