Covenant University Alumni Petition IG Over Banker's Shooting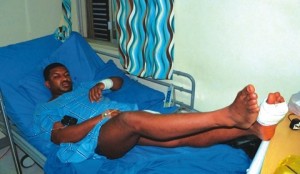 The Covenant University Alumni Association has petitioned the Inspector General of Police over the shooting of Femi Badejo, an alumni of the university, also an employee of Access Bank.
The banker was shot five times in a cowardly operation undertaken by members of the Nigerian Police Force, Makoko Station. The police were responding to a distress call from neighbours of Mr. Badejo, who placed the call whilst armed robbers were operating on co-tenants in their Ikota home.
According to reports, the robbers successfully operated and made away with belongings of Mr. Badejo and other tenants on the ground floor. Then an hour later, in came the members of the NPF, brandishing weapons and shooting indiscriminately at the tenants and security guard who were assembled in the compound.
Four of the bullets have been removed from Mr. Badejo's body and the security guard is also recuperating.
Ngozi Braide, Police spokeswoman botched the handling of the police communications of the matter by denying that the event transpired the way it did, even after confirmation of the event from several eyewitnesses.
The Vice-President of the Abuja chapter of the Covenant University Alumni Association, Reginald Bassey, berated the police for its lack of professionalism and failure to issue a public apology several days after the solemn event.
He said, "We have written a petition to demand for three things. First, we want a thorough investigation into the matter and we want the policemen who shot the victims to be brought to book.
"We see it as callous that those who are paid to secure lives could storm a compound and start shooting sporadically.
"Also, we want compensation for Badejo and the compensation must be commensurate with the extent of the injury."
"We want a formal apology from the Inspector-General of police addressed to Badejo," he said.