Apple and HTC settle lawsuit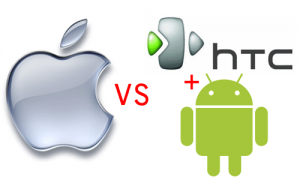 Two of the World's  leading phones and  tablet makers Apple Inc of the United States  of America and the HTC company of Taiwan have amicably settled their disputes in their 'patent wars', and  have also signed a 10-year licence agreement that will extend to  current and future patents held by one other.
Their battle over patent rights which began in March 2010 pitched both technology firms against themselves over who had the rights over patents, production, designs, prototype and concepts.
Apart from this patent battle Apple Inc has been embroiled in other patent wars with major  rivals like  Samsung Electronics from South Korea and Google Inc of the United States of America.
In terms of Profit and revenue sales Apple had missed its Profit estimates for the third quarter, while HTC has sadly been on the decline in its sales margin and production turnover since the second half of the year 2010.
The HTC management expressed joy over the settlement of its outstanding disputes with Apple which according to its CEO Mr Peter Chou will now enable them to  focus more on Innovation and more strategic ways of production in the mobile technology market.
Apple and its Rivals have been suing and countersuing for the past several years in filed legal cases each accusing  the other of violating its patents, copying designs and ideas in the lucrative smartphone space.
It can  be recalled earlier this year that the California Court awarded Apple $1.05bl in damages suit against Samsung after ruling several of its software and design technologies had been infringed but the Korean company is calling for a retrial.
Last week a US Judge dismissed Apple's case in which it alleged that Google's Motorola Unit was seeking excessive royalty payments for patents,  a setback for  the Iphone and Ipad makers.