Zenith redeploys GM, Human Resources for opposing gale of sack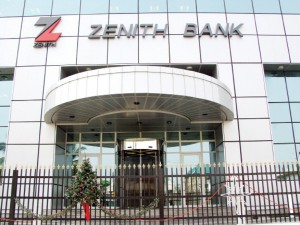 Zenith Bank Plc last Thursday flung the General Manager, Human Resources of the bank, Mrs. Obi Ibekwe, to Coker Zonal office to head marketing operations, a move that left staff of the bank bewildered.
The redeployment, which bank insiders agreed is purely punitive, was meant to shove her out of the way to enable the bank implement some unwholesome human resources policies.
Specifically, she opposed the recent gale of sacks by the bank and the on-going recruitment of degree holders as contract staff.
Her impromptu posting to marketing came to many as a surprise given her experience and pedigree in human resources. But upper echelon of the management of the bank was no longer comfortable with her professional stance on advising the bank against hiring of degree holders as contract staff who were billed to earn N65,000 and her antecedents of opposing the bank's layoff of staff recently.
She is said to be opposed to such unsavoury human resource practices even when the bank has been declaring huge profits.
According to a source conversant with the inner workings of the bank, the management of the bank was beginning to see her insistence on ethical principles as acts of insubordination.
Zenith is one of the banks often cited for dishing out hefty targets to its staff, which industry analysts believe expose staff, especially the female ones, to all sorts of abuses.
The source said, "Obi advised the bank against hiring degree holders as contract staff meant to earn N65,000 per month. She made a presentation to the management on the best practices of using HND and OND graduates for contract staff and the implications of engaging degree graduates which might be counterproductive. But her advice was turned down.
"Also part of her sin is that recently, she advised that management should not sack the workers that were laid off recently, querying why the bank was sacking while it was making huge profits, even though many were undeclared, as considerable chunk were diverted to expenses and later siphoned out.
"The management brushed her advice aside and proceeded with the sack and kept her in the dark on the number of the affected staff, criteria used in generating the list and their compensation packages. Instead, she only got to know about the mass retrenchment when some of the affected staff started getting SMS alerts and throngs of enquiries started flooding her desk."
THE CITIZEN was reliably informed that her transfer was like a hatchet job. "She was moved effectively Thursday last week without any prior notice. She just came to work on Monday and received a letter of redeployment to Coker Zonal Office," the source said.
Ibekwe, a lawyer, was called to the Nigerian Bar in 1986. She practiced law at Olaniwun Ajai and Co. before joining the banking industry. She started her banking career with Universal Trust Bank (now Union Bank), after which she joined Diamond Bank Plc.
She received a Bachelor of Arts degree in International Relations from Tufts University in 1980 and an LLB degree with Honors from the University of Lagos in 1985. She also obtained an MBA degree from Ross School of Business, University of Michigan in 2002.
Meanwhile, she has since been replaced by another woman, who was prior to her new appointment, the bank's general manager Domestic Operations, seen by many as a none core HR professional but a willing tool to manipulate the bank's HR as the management wishes.

Source: The Citizen