Influx of Fake Goods to Nigeria Caused by Lack of Laboratories – EU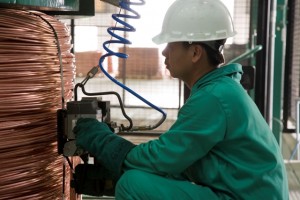 The European Union (EU) has said the dumping of substandard and counterfeit products in the Nigerian market may continue unabated due to the persistent lack of international endorsed standard testing laboratories in the country.
The European Union's First Secretary Trade Counsellor, Massimo de Luca, disclosed this during a media luncheon in Lagos. He named Europe as the biggest cocoa, fisheries, rubber, and other commodities' export market for Nigeria.
The EU is also worried about concern of dumping of second-rated products in Nigeria, stressing that they are working on stemming the tide. "Enforcement of standards and sanitation requirements is quite a huge area on which we are cooperating with NAFDAC and SON to do various things," he said.
"For example, the system of accreditation of the Nigerian laboratories is still in a kind of infancy and this is an area where we would really like Nigeria to stand out and become world class in the way the laboratories are stocked and operated. As this will help in the proper certification process of products and companies to comply with standards and procedures."
Talking about hygienic measures, there is plenty of collaboration going on between Europe and Nigeria through NAFDAC particularly for the enforcement of food safety rules. "What we do is to monitor challenges and try to address them when they occur. We also provide training on food safety hygiene and make sure that trade can really flow freely and not being hindered by standard issues or poor production quality," he added.
He added that if Nigeria had no oil the EU would have been Nigeria's most essential trading partner, notwithstanding the relationship between the two is still very important.
"We are talking of about 20 billion Euro export from Nigeria to Europe and the bulk of it is oil and in terms of import from Europe to Nigeria we are talking about significantly smaller amounts of around 13 billion Euros a year and the bulk of it is in machineries," he said.
The Director General of SON, Dr. Joseph Odumodu, promised that SON would always work to perk up the quality of products in the country, through the institution of research centres.
"We want to be globally relevant, apart from manufacturers using our laboratories for testing and quality assurance, we will also be attracting international bodies and experts to come for researches in our facility on the long-term, I believe that people can come here and obtain degrees from our research centre," he noted.
He said, "SON needs more appropriation to build more laboratories, revealing that Egypt has 90 laboratories and so with Nigeria's plan to build 15 in the next two years we are just starting."
The SON Director General was earlier highly praised by Onawo for being the first Director General of SON to put such a creditable project in place.