Enormous Iron Ore Deposit Found in Kogi, Worth Billions of Dollars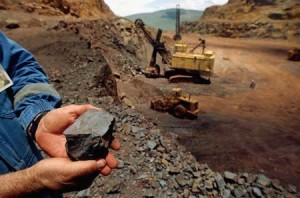 An enormous iron Ore has been found in Agbaja, Kogi State by an Energio Limited An Australian Company.
In a confirmatory statement, the company said it has discovered about 488 million tons, with an In-situ Iron grade of 42.7 per cent. The Ore will largely affect the Nigerian economy, especially everything that has to do with Iron, both usage and export.
Iron Ore currently trades on the international market for around $100.
 
According to the company, the Ore is about 13.9km2 and 9km2 represents about 15 percent of the potential areas as well as 9.2 per cent of the company's 151km landholding for Iron, which is the first JORC Iron Ore discovered in the Country.
 
The Company however, named June 2013 as the date for update on the resources, a clinical geological survey will be done, and they believe the company would have known everything it needs to know about the entire resource potentials.
 
The current JORC resources approximation allows the admission of project development studies for the Iron Ore production project following feasibility studies.
Energio further complimented the discovery and location of the Ore, adding that the Ore is uniquely located, in a shallow flat channel, which will give room for the development and utilization of the abandoned rail lines there.
Dr. Ian Burston, the Chairman of Energio Limited in a statement noted that the discovery of the Ore is a wonderful result for the country, considering the fact that the company began drilling at the site only Last year November.