Financial Times: Nigeria aviation: A new low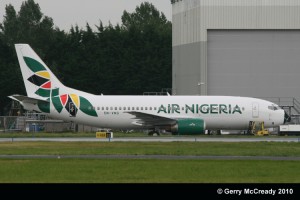 And then there were two. A fortnight after Air Nigeria folded, and three months after Dana Air was grounded following a crash in Lagos that killed 153 passengers and crew, Nigeria's biggest airline Arik Air suspended all domestic flights on Thursday "until further notice".
Thousands of people were left stranded at airports across the country. The only commercial carriers left in the sky are Aero, which has a dozen or so planes, and IRS, with six aircraft and a website that inspires little confidence. This in Africa's most populous country, with distant commercial, political and oil industry capitals, and an unfriendly road network that makes flying the only option for businesspeople.
The Arik debacle shows the depth of the aviation sector rot. On its website the company said its operations had been disrupted by workers from the Federal Airports Authority of Nigeria. FAAN denied this, and said unions upset over unpaid salaries were responsible for picketing the airline's offices in Lagos. Arik, which also flies regionally and to London, New York and Johannesburg, then spread the blame higher.
Addressing the media on Thursday afternoon, its management accused the aviation ministry and in particular the minister, Princess Stella Oduah, of having a personal interest in seeing the airline fail. Oduah, who is a close ally of President Goodluck Jonathan and describes herself on her website as "an amazon of a woman", dismissed the allegations through a spokesman. Her ministry alleged that Arik was trying to divert attention away from the many millions of dollars it owes to the federal government. All this just a day after the Senate Committee on Aviation recommended that Arik be allowed to serve as the national carrier.
For frequent flyers in Nigeria, which accounts for around two-thirds of all the air traffic in West Africa, this is all very bad news. The Dana disaster, which occurred on the busy Abuja-Lagos route, had already left many people uneasy about flying. Though it has not yet resumed operations, Dana has been cleared for take-off, to the anger of some of the victims' relatives who still don't know what caused the crash.
The demise of privately-owned Air Nigeria also left a bitter taste, with passengers stranded in the UK reportedly forced to pay £40 each for aviation fuel for the journey home. Arik's own future is now clouded.
Dung Pam, a Nigerian pilot and industry watcher, says weak regulation, political interference, fraud and high operating costs all contribute to the aviation crisis. Airlines need to consolidate to survive, he says.
But there is no sign that anyone who matters is listening. "We are on a slippery slope," says Pam.