Startling statistics: 60 million Nigerians spend N1.6trillion on generators annually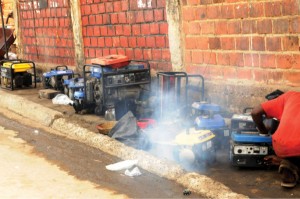 Some interesting statistics on the usage of power generating sets in Nigeria has been revealed by the Director-General of Centre for Management Development, Dr Kabir Usman.
According to him, about 60 million Nigerians spend N1.6 trillion on generators annually.
He also said that Nigeria had the highest number of standby generators, which had become permanent, making the Power Holding Company of Nigeria (PHCN) the standby.
"Currently, there are about 60 million generators in Nigeria at the ratio of one per household of 2.5 people with an annual spending of N1.6 trillion," Tribune quoted him as saying at the launch of the National Power Training Institute of Nigeria (NAPTIN) graduate skills development programme in Abuja, on Monday.
Mr. Usman further noted that the presence of too many generators has also been the cause of many deaths in the nation as a result of carbon monoxide emission.
Still on the use of generating sets as alternative sources of electricity, it is no news that irregular power supply has adversely affected businesses in Nigeria. He revealed that Nigeria's highly inadequate supply of electricity adds 40 percent to the cost of goods produced in the country. According to him, "the situation has compelled many industries to either shut down or relocate to neighbouring countries."
He also said that the poorest Nigerians paid more than N80/kwh burning candles, kerosene and firewood while manufacturers paid between N45 and N60/kwh on diesel to run their generators.
With so much money being spent on alternative sources of electricity, it comes as no surprise that most Nigerians eagerly await the completion of the ongoing privatization process of the PHCN with the hope that power supply would become more regular.

Source: Bella Naija