"We can balance our income with our expenses" – Chelsea confident of meeting up with FFP rules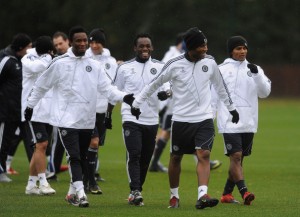 Chelsea chief exeuctive Ron Gourlay has insisted that the club are in a positive position to adapt to Uefa's impending Financial Fair Play (FFP) regulations.
The newly instated rules state that, from the 2013-14 season, European football's governing body could sanction teams for so-called "financial doping" in terms of excess spending.
It has been questioned whether the Blues, who spent in the region of £80 million during the summer transfer window, as well as possessing one of the Premier League's highest wage bills, will be able to comply with the new regulations, but Gourlay has maintained an optimistic outlook.
"From Chelsea's point of view, we have been working very hard to comply with FFP criteria," Gourlay told the club's official website.
"We are still very much in favour of rules promoting financial stability in clubs and protecting the long-term future of football across Europe. We did have and still do have concerns about the fairness of rules across the whole of Europe because we think that is going to be very difficult.
"We have been very active commercially as we strive to meet the obligations of FFP. We added several new global partners to our portfolio over the summer and we have been exploring naming rights. These are part of ensuring we can balance the relevant football income with the relevant football expenses.
"We have geared ourselves up for the financial regulatory structure now in place in Europe, and would like to think that we could develop an appropriate set of financial stability regulations to apply to all Premier League clubs."
However, Gourlay has raised concerns on whether FFP will succeed, citing the difficulties of various currencies as an example of where problems may arise.
He added: "There is a financial panel that is going to manage this process and control any sanctions and refuse any licences, and they have to deal with different currencies, different taxation levels and different types of stadium ownership. Trading legislation is different across Europe as well. Making this fair is going to be quite challenging."
Financial Fair Play came into play this season and earlier this month saw the first penalties imposed as 23 clubs, including the likes of Europa League winners Atletico Madrid, were refused prize money from European competition for failing to convince the authorities of their financial security.
Source: Goal