Onosode Appointed Chairman of Investor Protection Fund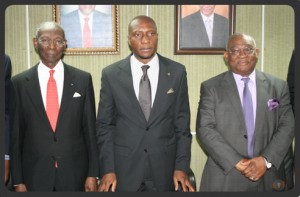 The Nigerian Stock Exchange has constituted the Board of trustees for the investor Protection Fund. The Fund is set up to compensate investors who lose money in the stock market as a result of the bankruptcy, insolvency, negligence or wrong doing of stockbroking firms.
The nine-member Board of Trustee has shareholders, stockbrokers, and registrars represented in its constitution.
Speaking at the inauguration of the board of Trustees last Friday, Gamaliel Onosode said he was humbled to be selected for the position and that he would draw upon his years of experience to ensure he carried out his duties to the letter.
Also speaking at the inauguration, the CEO of the Stock Exchange, Oscar onyema said, "Each of you is representing a component of the capital market.  On behalf of the management of exchange, I assure you that we will provide you with all the support and assistance that you require within the context of our limited resources.
"Our expectation is that you will hit the ground running because, as you will agree with us, this session is five  years later than it ought to have been, given that the Investment and Securities Act came into force on 25 June 2007.  The investing public is watching us and we should give them every comfort to say "it is not how soon but how well."  Therefore, we task the BoT to look for ways to modernise the IPF in line with global best practices, enhance the quantum of funds available in the IPF, and create clear guidelines for compensating legitimate claimants from the fund."
Other members of the board include Misan Kofi-Senaya; Mr. Kyari Bukar; Chief Sola Abodunrin; Mr. Fubara Anga; Mr. Edosa Aigbekaen; Mr.   Sam Onukwe and Alhaji  Umaru Modibo.