FG warns companies against hiring contract workers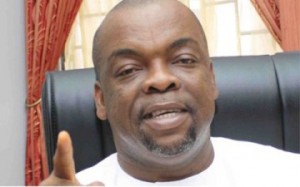 Federal Government has said it will penalise companies which engage workers on contract basis.
Minister of Labour and Productivity, Chief Emeka Wogu, said this while delivering a lecture, 'Towards Sustainable Industrial Peace in Globalised Era: Issues, Challenges and Potential' in Ibadan on Friday.
The seminar organised by the Centre for Peace and Conflict Studies, University of Ibadan, was to commemorate the World Peace Day.
Wogu, who stated that the issue of contract staffing was of serious concern to government, lamented that the practice was common within the private sector.
He said, "The issue of contract staffing or casual workers is of great concern to us as a nation. On assumption of office I took the matter up to address it.
"It is noted that the problem of casual workers has now shifted from the oil sector to the telecommunications and banking sectors.
"There are judicial decisions in that respect stating that no person can be engaged as casual worker beyond the period of six months.
"It is a global problem, people get desperate and they do not really understand what they are going into; it is only at the full realisation of what they have entered into that they run either to the labour union or to government."
He reassured the public that government was channelling efforts towards eradicating irregularities in the working environment.
"The government will correct the anomalies and ensure that such do not persist as they could truncate the transformation agenda," he said.
The Minister called for support of government's efforts at providing enabling environment for the youths in a drive to bring about development in the nation.
He said, "We have a lot to do to shape the orientation of the youths who are supposed to be future leaders. Without this, the future of the younger generation would be bleak."
He said that the government had put in place a scheme to create jobs and engage the youths.
Earlier in his opening address, the Vice-Chancellor, University of Ibadan, Prof. Isaac Adewole, represented by his deputy, Prof. Arinola Sanya, said that industrial peace was crucial for the advancement of the nation.
The Director, Centre for Peace and Conflict Studies, Dr. Ifeanyi Onyeonoru, said, "The root causes of conflicts in Africa are directly related to or fuelled by the presence of valuable natural resources.
"Harmonious treatment in the production, control and management of such natural and industrial resources is crucial to maintaining stability and ensuring security as well as restoring the economy."
Source: PUNCH