Crude oil exports to hit 6-month high in November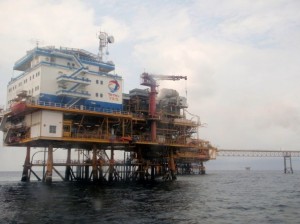 Nigeria's crude oil exports are due to hit a six-month high in November as almost all its oilfields pump near recent peak levels, provisional loading programmes showed on Monday.
The Federal Government will sell around 2.12 million barrels per day (bpd) of crude oil in November, up from 2.05 million bpd scheduled to load in October and 1.84 million bpd in September.
Provisional loading schedules are subject to minor changes but the programme indicates Nigeria plans to ship its highest volume since May, when it sold just less than 2.13 million bpd.
Scheduled maintenance work and some acts of sabotage on oil production facilities in the onshore Niger Delta have reduced output over the last few months.
A total of 72 full or part cargoes of crude oil will load from 17 different production streams in November, the schedule shows, with several streams close to recent highs.
Six full cargoes and three part cargoes will load over 230,000 bpd of distillate-rich Forcados crude in November, up from 194,000 bpd in October, reflecting strong demand for crudes which can produce large quantities of heating oil ahead of the northern hemisphere winter.
The country will export around 380,000 bpd of Qua Iboe crude oil in November, up from 368,000 bpd in October.
Source: Channels