CBN sets up N100bn intervention fund for women entrepreneurs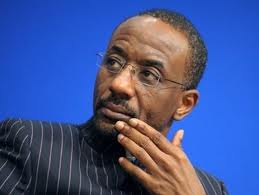 In line with its plan to boost businesses owned and managed by women, the Central Bank of Nigeria (CBN) may have set aside N100 million intervention fund for women enterprises. The Director General of Nigeria Employers Consultative Association (NECA), Mr. Olusegun Oshinowo, who disclosed this in Lagos last week, said the funds would go a long way in complementing government's economic transformation agenda. Oshinowo, who spoke at NECA's Network of Entrepreneurial Women (NNEW) network meeting, noted that the fund would assist women entrepreneurs grow their business and create more job opportunities for the youths.
The NECA boss further stated that the CBN had already set-up a committee to work out modalities on how the disbursement of the fund would be made to beneficiaries. "It is expected that once the committee comes out with the workability of the project, it would come forward on how to access appropriate working capital for women entrepreneurs, various funding opportunities available for SMEs operators and how operators can benefit from them," he said. He observed that if properly disbursed to the beneficiaries and well utilized it would create more jobs for the youths and women. According to the Chief Executive Officer of Gracefields Multi-Options Limited, Ms. Regina Amadi, it has remained an uphill task for women SME operators to access funds from banks.
In her words, approaching banks and getting good response from them has been so difficult, but with this fund that would be made available to the women, access to fund by women will be easier. She said that statistics had shown that women are better off at paying back loans granted them, against which they should not be given daunting repayment conditions. She noted that creating this intervention fund was key to the sustainable economic development of Nigeria, as it was the only means of creating solid foundation for economic activities at the grassroots. She observed that the significant contributions SMEs are making to Nigeria's economy, especially in addressing key challenges of sustainable economic development and wealth creation, must be encouraged through granting of low interest credit.
Also speaking at the event, the President of NECA's Network of Entrepreneurial Women (NNEW), Mrs. Lola Okanlawon, said that the greatest challenges facing many women entrepreneurs are in areas of financing their businesses. According her, this is because they are either faced with daunting repayment conditions from financial institutions or are unaware of SME friendly schemes that have been put in place to assist them. She therefore demanded an end to the politics played with women entrepreneurs in the country by those in government calling for strong regulatory and mentoring establishments to be put on ground as one of the ways of growing SME in the country "We in NNEW remain absolutely committed to assisting the development of SMEs sector in Nigeria.
Our SMEs are an exciting initiative. It will enable us to significantly enhance our service to our SME customer," she said. He observed that if government at all levels could pay attention to these challenges by providing the needed solutions to them, the SMEs would survive. Okonlawon further stated that employment generation ability of entrepreneurs would be enhanced if the intervention was fully implemented.
Source: Daily SUN