Arik Air back in the skies, with empty seats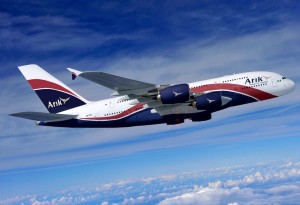 Nigeria's largest airline, Arik Air, began flying this morning with planes half empty, three days after it was grounded by a union protest over an alleged N18 billion unpaid debts to aviation agencies.
Reports said, the airline with 23 aircraft and an average of 7000 daily passengers, lost about N3 billion during the three days it was grounded.
Nineteen of Arik Air's planes operate domestic flights while four others are used for long haul operations.
The first Arik Air flight took off from the Murtala Muhammed airport in Lagos, southwest Nigeria, at 6.25 a.m., and was heading to Abuja, Nigeria's capital.
"The first, the second and the third flights are all heading to Abuja and the fourth flight will be heading to Enugu," a manager said.
"You know, most of the planes were here in Lagos. We are getting them outside Lagos. The first flight was less than half full," he said.
Another official said the second flight to Abuja had the capacity of 135 seats but was about taking off with about 60 passengers.
"You know, awareness is juts being created," a manager said.
The General Aviation Terminal, GAT, where Arik operates, was roaring back to life with cab drivers and business activities getting back to life.
"I hope we make sales now. Yesterday was very dry," a manager at Mr. Biggs, a fastfood restaurant said.
"We make an average of N200,000 a day. But the last three days, we could barely make N60,000," his colleague said.
Passengers were happy the air business was normalising again.
"Thank God Arik is back, I have to buy a ticket fast," a passenger said.
There are now only four airlines doing domestic operations in Nigeria.
While Arik Air, the largest airline, has 23 aircraft, Aero Contractors follows with seven planes. Overland Airways has four small planes and IRS has only two functional planes.
In all, 34 planes are operated by Nigerian airlines at the moment, with only 30 of them involved in domestic operations.
Dana Air, whose plane crashed on 3 June has three functional aircraft, the fourth one is undergoing maintenance in Turkey.
The airline, belonging to an Indian-Nigerian family, is yet to resume since the plane crash that killed about 160 people, though only 149 corpses were recovered.
Arik Air, Nigeria's largest airline, has 23 planes and is ranked number 8 in Africa, though with the continent's biggest population of about 167 million.
In comparison, EgyptAir has about 70 planes and Royal Air Maroc has 55 aircraft while South African Airways has 54. Ethiopian Airline has 47 planes and Air Algerie has 42.
Source: PM News