19 out of 23 Arik airplanes remain grounded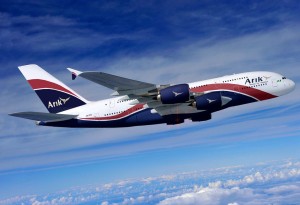 Nineteen of the 23 aircraft of Arik Air, Nigeria biggest airline, remained grounded on Saturday and its average of 7000 daily passengers headed to MMA 2 to board Aero Contractors' planes.
The General Aviation Terminal, where Arik Air operates, was deserted. There were long queues on Saturday at Aero Contractors' counters as most flights were fully booked.
With seven functional planes, Aero Contractors operates about 50 daily flights, according to its Managing Director, Captain Akin George.
The other two domestic airlines operating in Nigeria at the moment are Overland Airways, owned by businessman Captain Edward Boyo, CEO, Overland Aviation Limited, and IRS airline owned by Ahalaji Ishaku Rabiu.
While Overland Airways flies interland with its four aircraft and avoids competition from bigger airlines such as Arik Air and Aero Contractors, IRS airline has been operating on major routes with its only two functional aircraft.
Overland Airways, which flies routes such as Lagos – Ibadan- Abuja -Ilorin – Lagos, has two Propeller and two ART-42 aircraft.
Overland Airways' two Propeller aircraft,two Beechcraft 1900D, carry a maximum of 20 passengers while its two ART aircraft can carry a maximum of 42 passengers.
IRS two Fokker-28 aircraft carry about 100 passengers.
Overland Aviation Limited, an IATA licenced training company, is involved in Aviation, training, chartered and air ambulance air services and publishing.
Meanwhile, the three major aviation chiefs in Nigeria have excoriated Arik Air, for claiming that it does not owe their agencies more than N1.6 billion.
The Director General of the Nigerian Civil Aviation Authority, NCAA, Dr. Harold Demuren; his counterpart at the Federal Airports Authority of Nigeria, FAAN, Mr. George Uriesi, and the Managing Director of the National Airspace Management Agency, NAMA, Mr. Nnamdi Udoh, lambasted Arik , saying the airline owes them 'huge debts'.
"In the months or years past, all the three agencies have made continuous efforts to recover these debts owed by the airlines to varying degrees of success, even as the debt continued to accumulate on a daily basis," the aviation chiefs said in a joint press statement.
"With the continued failure of Arik to honour its current and past obligations, FAAN's ability to carry on as a going concern, is severely diminished," the statement read.
They said the management of FAAN has continuously engaged with that of Arik Air, 'but the airline has continued to make cases why it will not honour its obligations to FAAN'.
The aviation chiefs said they were surprised to see Arik's management on television claimed it did not owe any money.
"FAAN denies all these baseless allegations with all the contempt they deserve," they said.
They said they are committed to the orderly growth and development of the country's transport industry with financially healthy airline, "where all players have a level playing field and each is treated fairly and justly."
Arik Air is said to owe the agencies over N18 billion, excluding the huge debts owed AMCON. The airline claimed it owed only N1.6 billion.
Source: PM News