House of the Week: Astonishing N75m four-bedroom duplex for sale in Magodo G.R.A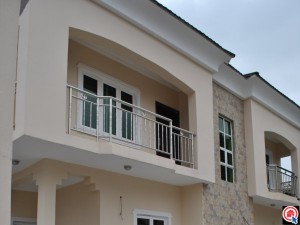 This four-bedroom duplex in Magodo Shangisha G.R.A is for sale. Property comes with a two-bedroom attached maid rooms, fitted kitchen and wardrobes, interlocking paving stones and a large packing lot.
Magodo G.R.A is located at around the North central area of Lagos State. The Estate was created by Lagos State Government as one of the government Reservation Areas
Magodo G.R.A Phase II, is close to the dismantled Toll gate at the Lagos end of the Lagos-Ibadan Expressway, via Ikosi Ketu but adjoining Shangisha
The estate is very exclusive and has fairly good physical outlook. The plots are well laid out while the roads are adequately interconnected, rain and waste-waters in the Estate are naturally drained into lower grounds and gorges surrounding the Estate.
Price: 75 million Naira Net
Click here to tour the property