No Going Back on N5000 Note – FG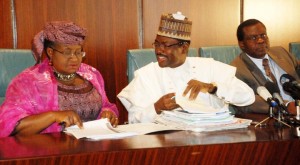 The Federal Minister of Information, Labran Maku, has said that the Federal Government would not be rescinding its decision on the currency restructuring policy which includes the controversial issuance of the N5000 note.
Minister of Information, Mr Labaran Maku, stated government's position on the controversial issue on Tuesday night in Abuja, as a guest of People's Forum, a programme organised by the Nigeria Union of Journalists, NUJ.
He said the resolution of the two chambers of the National Assembly calling for a halt to the policy were not binding on the Federal Government.
His words: "A resolution by the National Assembly is not an Act. The National Assembly makes laws but the laws are different from resolutions. While the laws made by the National Assembly are binding on the government, including citizens, the same is not with resolutions. Resolutions are not binding on government as they are just positions of the legislators. The government can say yes, we have seen your position but this way is better".
He lauded the accomplishments of CBN Governor, Mallam Lamido Sanusi and said he meant well for the country and should be allowed to continue his good works.
"I think the way the Central Bank of Nigeria has been able to manage our economy without borrowing, is quite commendable and should be appreciated", he said.
"I think we should allow the Central Bank of Nigeria to provide leadership, give us what they are to do, it is not a matter of opinion poll but it is a matter that the experts know what they are doing. See the way he (Sanusi) took us through the period of financial meltdown, we were able to survive the situation without borrowing. The Central Bank has exuded a lot of confidence that we should give them support", he added.