How to Network Yourself into an Investment Bank (part 2)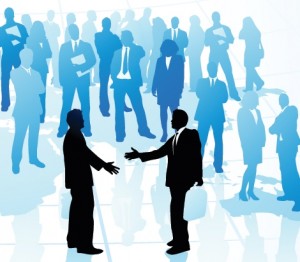 Connecting with people and building your list of contacts is absolutely key to getting and staying in the investment banking industry. Here are five more tips following part 1 on Networking Yourself into an Investment Bank.
6. Catch up with your peers, especially any economics students, on how they are going about hunting for a job. 
In the couple of months before I started applying for internships I was constantly chatting about it to my peers. I knew nothing about banking. I would say these conversations are half of the reason I managed to secure an internship in the first place.
Discuss different ways of handling technical questions, where people are applying, what recruitment events people are attending, whether they can share contacts with you, what they know about the different banks, which newspapers they are reading, what questions they have been asked at interviews and so on.
To get ahead it is best to treat your peers as collaborators not as competitors. The more open you are, the more others will share information with you.
7. Always send a follow up email to new contacts: 
A 'thank you' or 'great to meet you' email always goes down well. In addition, you can elaborate on a discussion you had or perhaps remind them to send you something that they said they would or vice versa.
8. Join LinkedIn. 
You can use this as a tool to connect with any new contacts you have made.
Try to get your lecturers, colleagues and your manager at your part-time job to give you a recommendation on LinkedIn. Potential employers may see it.
Check out your friends' Connections. See how you can use their contacts to progress your own job hunt.
9. Find a mentor or a coach. 
A coach will give you constructive feedback on the quality of your answers to interview questions, your body language, the tone of your voice and importantly how you can improve. Every top performer in sport or industry has a mentor coaching them to success. You can receive one-on-one coaching from Girl Banker®.
10. Finally, ask intelligent questions! 
As part of SEO, I had exposure to many high-ranking bank officials at networking events and I made it a point to ask something smart, so much so that my peers began to recognize me as the girl who likes asking questions. At the end of the experience SEO awarded me recognition as 'The Most Insistent Person.' Don't ask me what that means!