Has Standard Chartered Bank gone Rogue?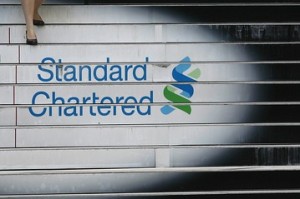 Standard Chartered bank illegally "schemed" with Iran to launder as much as $250bn (£161bn) for nearly a decade, a US regulator says.
The New York State Department of Financial Services said that the bank hid 60,000 secret transactions for "Iranian financial institutions" that were subject to US economic sanctions.
It labelled UK-based Standard Chartered a "rogue institution".
The bank has been threatened with having its US banking licence revoked.
The allegations are far larger than those involving HSBC, which was recently accused by the US Senate of failing to prevent money laundering from countries around the world including Mexico and Iran. It has set aside $700m to deal with any fines and penalties arising from those allegations.
The bank is ordered to appear before the regulator soon to "explain these apparent violations of law" from 2001 to 2010.
The regulator also said that it would hold a formal hearing over the "assessment of monetary penalties".
"If the allegations are proven true, it does show there was a systematic policy in place to strip these wires of the necessary information," Farhad Alavi, a lawyer at BHFA Law Group in Washington DC, told the BBC.
"Because the transactions have to pass through the US [because they are in US dollars] this is one area where the US can exert its power."
Other schemes found
The regulator also said it had uncovered evidence with respect to what are apparently similar schemes to conduct business with other countries under sanctions – Libya, Burma and Sudan.
Read more at BBC