The Libor Cartel: Wall Street's Biggest Scam Ever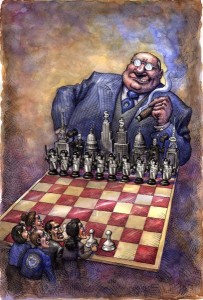 LIBOR has been on many investors lips lately. A few still seem to understand the implications. Below is a must read piece from Der Spiegel.
In the glitzy world of investment banking, money market traders were at the bottom of the pecking order before the financial crisis. They were not involved in major deals, and they could only dream of the kinds of bonuses stock and bond traders received. "They were always at the bottom of the food chain," says a former investment banker.
It was a conspiratorial group of underdogs who worked for various banks and met at least once a month for a beer or a mojito in New York, London or Frankfurt. By the middle of the last decade, when there seemed to be a surplus of money at the banks, they all had the same problem: They were derided or, worse yet, ignored by their colleagues in the trading rooms of major banks.
But what if it were possible to know where interest rates were headed at the end of the day, or even in the next hour? What if a few traders could manipulate the ups and downs of interest rates?
By 2005 at the latest, the traders would seem to have begun realizing just how much power they had were they able to collaborate within their small group. There was no need for formal contracts between large institutions, merely agreements among friends. A pointer here, a few traders meeting for lunch there, and soon the group had formed a global cartel that, according to investigators, reached from Japan to Europe to Canada.
"Come on over; I'll open a bottle of Bollinger," a trader, inebriated with his success, wrote to a colleague after the Libor rate had been set. Adair Turner of the British regulatory agency quotes the email as evidence of "a culture of cynical greed in the trading rooms."
Full article here.