H1 2012 Earnings: UAC Posts Revenues of N30.5 billion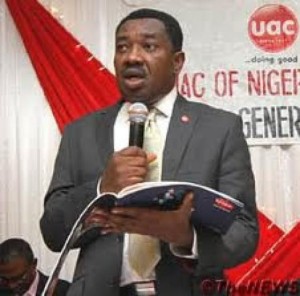 UAC of Nigeria Plc, the most diversified conglomerate in Nigeria with operations in foods, beverages, dairies, restaurants, paints, logistics and real estate announces IFRS compliant results for the six months ended 30 June 2012.
Commenting on the half year's performance, Larry Ettah, Group Managing Director & CEO of UAC of Nigeria Plc said:
"Our strong revenue growth in the second quarter demonstrates that we continue to reap the dividends from our efforts last year and earlier this year to scale up output capacity in response to rising demand for our consumer brands. Most pleasing is that rising revenue is now filtering through to operating profit which I am delighted to announce, was up 14% year on year for the quarter under review. This demonstrates that our strategy to achieve profit through volume growth in areas where we are experiencing margin pressure is paying off. Elsewhere, we continued to seek out beneficial partnerships that increase our market penetration and technical advantages, most recently in the animal feeds industry where we are progressing with discussions on a strategic investment in Livestock Feeds Plc as well as in the Paints industry where we are at an advanced stage of discussions regarding the potential acquisition of a majority stake in Portland Paints and Products Nigeria Plc. Overall, I am pleased to say that our sustained approach to planning and implementation of our business strategy will keep us on course to meet our budget targets for 2012".
Group Financial Highlights
Income Statement (Profit & Loss)
§  Revenue of N30.50 billion, up 16% year on year (N26.27 billion June 2011)
§  Gross Profit of N8.62 billion, up 21% (N7.13 billion June 2011)
§  Operating Profit of N4.15 billion, up 14% (N3.65 billion June 2011)
§  Profit Before Tax of N3.47 billion, up 11% (N3.12 billion  June 2011)
§  Profit After Tax of N2.14 billion, up 17% (N1.82 billion June 2011)
Performance Ratios
§  Improving Gross Profit Margin of 28% (24% March 2012 and 27%  June 2011)
§  Stable Operating Profit Margin of 14%  (10% March 2012 and 14% June 2011)
§  Stable Net  Profit Margin of 11% (9% March 2012 and 12% June 2011)
§  Annualised EPS of 124 kobo (114 kobo March 2012 and 80 kobo June 2011)
§  Annualised ROE of 16% (11% March 2012 and 15% June 2011)
Capital Structure Ratios
§  Debt to Equity ratio of 0.51x (0.45x March 2012 and 0.59x June 2011)
§  Debt to Total Capital ratio of 0.40x (0.37x March 2012 and 0.46x June 2011)
§  Debt to Operating Profit ratio of 2.63x (3.30x March 2012 and 3.41x June 2011)
Key Subsidiary Performance:
UAC of Nigeria operates through eleven subsidiaries; H1 2012 performance in our principal markets was as follows:
UAC Foods (foods, dairies, fruit drinks and water) Profit before Tax of N888 million up 20% (N738 million June 2011)
Operational highlights
Turnover up 8% from last year
As per Q1 guidance, actions to address margin compression through restructuring and focus on supply chain efficiencies have started to filter through in Q2 results, demonstrated by the 20% year on year growth in PBT.
Comprehensive review of ambient operations has reduced costs
Full recovery of production and sales volumes following dip in Q1
UPDC (real estate) Profit before Tax of N683 million up 33% (N514 million June 2011)
Operational highlights
Turnover up 47%
Margins slagged on account of newly developed projects vs. some mature property sales in 2011
Further market penetration in mid-tier segment
REIT currently awaiting regulatory approvals
Grand Cereals Ltd (animal feed, maize meal and edible oil) Profit before Tax of N1.26billion, up 8% (N1.17billion June 2011).
Operational highlights
Turnover up 43%
Top-line performance boosted by significant volume growth in animal feeds
Gross margins up on account of in-season procurement of raw materials
Debt financing has increased on account of increased activity level and material price rise; interest expense depressing net margins
Investment in seasonal inventory beginning to yield benefits
Rights Issue opened in July
CAP Plc (Paints) Profit before tax of N849 million, up 43% (N595 million June 2011)
Operational highlights
Turnover up 29%
Opened 2 new Colour Centres and 5 new Colour Shops
Launched Dulux Ecosure products
Won Akzonobel IBD 'Investment In People' award
Profit performance boosted by improved inventory process with reduced provisioning
MDS Logistics Plc Profit before tax of N464million (N302million June 2011)
Operational highlights
PBT up 54%
Profits have improved following restructuring, price reviews, cost curtailment and stringent cash flow management
Growth in clientele base experienced in warehousing segment
Successful spin-off of 'MDS Logistics' division into 'MDS Logistics Plc'
UAC Restaurants Ltd (QSR) Loss before tax of N212million (Loss N214million June 2011)
Operational highlights
Turnover down 65% as a result of full franchising of retail outlets and insecurity in some parts of Nigeria
Outdoor catering services category franchised
PBT performance stable despite impact of restructuring actions and input costs
Focus on compliance, training and standardisation across all stores
Spin-off of UAC Restaurants division into UAC Restaurants Limited completed
Benefits of restructuring already filtering through.