GTBank Security Upgrade Explains Service Disruptions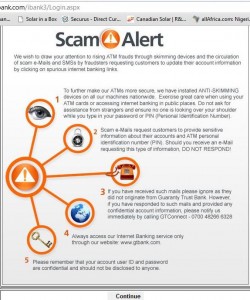 Not a few GTBank customers are affected by service disruptions on the bank's Internet banking platform. Complaints range from inability to complete transactions from online savings accounts to problems with third party bank transfers.
As complaints trickle in via Twitter, Facebook and Nairaland, the bank has released a statement explaining the service disruptions and apologizing for the inconvenience caused its "valued customers". The statement released by the bank says the disruptions are necessitated by the bank's need to upgrade its security network in order to serve its customers better.
Bimpe Majekodunmi an IT expert based in Abuja said about the disruptions, "GTBank is the only bank I use due to their efficiency, and quality of service. Sincerely I am shocked as to why I could not pay a merchant via i-banking today. I'm sure there must a good reason for this inconvenience."
The GTBank press statement reads in part, "In line with our commitment to ensure you perform your banking ransactions quickly, safely and conveniently, we would like to inform you that we are presently upgrading the security features for third party transfers and several other functions on our internet banking platform.
"Kindly note that during this upgrade exercise the third party transfer function for Savings Accounts on our Internet Banking platform will be unavailable to customers. Should you require to transfer money to a third party, please transfer the funds to your current account and then perform the transaction. You can also visit any GTBank branch nationwide to effect your transfer."