CBN Holds Memorial Service for DANA Crash Victims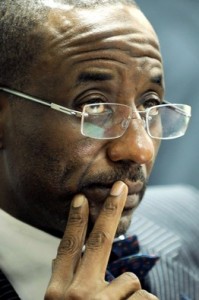 The Central Bank of Nigeria, yesterday, held a memorial service for the victims of the Dana Air Crash which claimed 8 of its employees.
The eight officials on board the ill-fated Dana Boeing MD-83 flight on their way to Lagos to attend a course for bank examiners at the CBN Training School, were Mr. Amiaka Rapheal (Senior Manager); Mrs. Antoniah Attuh (Senior Manager); Mr. Bamaiyi Adamu (Assistant Manager); Mrs. Falmata Mohammed (Assistant Director); Mr. Ibrahim Yusuf (Principal Manager); Mr. Kim Norris (Special Adviser to the Governor on Banking Supervision); Mr. Istifanus Mutihir (Deputy Director); and Mr. Samuel Mbong (Senior Manager).
Apart from them, four other CBN workers also lost their loved ones to the crash.
Emotions ran high as the families interacted over the loss of the lives of their loved ones and bread winners.
Sanusi who personally lost a cousin to the tragedy said he had flown that same aircraft only days before and complained of its shoddy state.
He said, "I was on that plane a few days earlier and I remember that I complained about the condition of that plane. I was not the only one that complained; other people who flew the plane also said the aircraft wasn't  good."
He added that the accident served as a reminded on the transient nature of life. "Things like this remind us of how transient life is because any of us in this room could have died from such circumstance".
According to him, "every Nigerian was touched in a much more profound way. I have a memory of that evening that will live forever because I lost a cousin on that flight."