Buy Dubai
A leading property developer in Dubai, Damac Properties, is developing an ultra-modern luxury high-rise (90 floors) residential tower in the Dubai marina. The project is located next to the Marina Walk and facing the Palm Jumeirah and the Ocean.
Dubai properties are an excellent investment asset class as the world-acclaimed tourist destination is renowned for possessing the best manmade structures on the planet. Furthermore real estate prices have corrected due to the financial crisis of 2008, and many prime locations have had their prices per square foot correct by as much as 40%.
Overlooking the Palm Jumeirah, the 8th man-made wonder of the world, this signature tower offers the most exclusive penthouses, duplexes, 3, 2 and 1 bedroom apartments in the world. When looking for apartments in Dubai, look no further than DAMAC Heights. Be a Dubai real estate tycoon. Come home to limitless luxury, with all the fine details of luxury living right inside your home. This is what life at the very top is all about.
Features, Amenities and Specifications for Residential
Distinctive design with curvaceous form
Prominent location
Well-networked roads for easy access and exit
Panoramic views over both the marina and the sea
Ample convenient covered car parking for residents available (sold separately)
Lush landscaped walkways and promenades around the development
Luxurious entrances and lobbies with 24 Hours manned reception and Concierge services.
Access Control
High-tech elevators
Integrated Building system that provides the following:
– Safety Surveillance System
– CCTV, security & access control
– Centre of monitoring and control of building services
– Fire alarm system
Male/Female Health club and SPA with latest fitness equipments; Jacuzzi, Sauna and Steam
Swimming pool with temperature control.
Juice bar
Barbecue area
Marble flooring in select common areas
Premium resident's lounge for parties and small gatherings
Mailbox for each apartment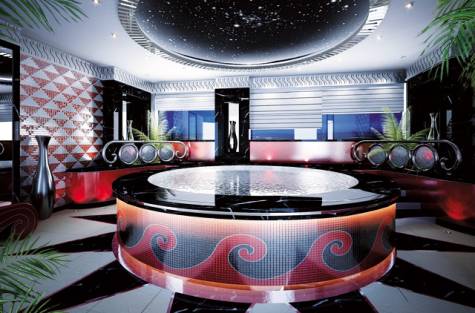 Cozy  Jacuzzi
Apartment Features:
Integrated smart home system for Living and Dinning room for a/c control & lighting control (dimming).
Double glazed windows
Designer wall covering in selected areas
Leather clad doors in selected areas
Branded LCD TV and surround sound system
Marble flooring in selected areas
Fitted wardrobes in bedrooms
Kitchen Features:
Premium kitchen.
Distinctive Stone counter tops
Stainless steel sink with chromed taps.
Ideal cooking environment created by a central exhaust system
Fitted kitchen with Refrigerator, Stove and Oven, with provision only for Washer/Drier & Dishwasher (where size permits).
Fitted kitchen cabinets with designed finish.
Bathroom Features:
Luxurious bath in master bedroom (with chrome finish fittings including rain shower head and body sprays)
Polished ceramic wall tiles in bathroom and shower enclosure
Vanity mirror
All vanity sinks feature stylish chromed finish fittings
Shower enclosures, wherever applicable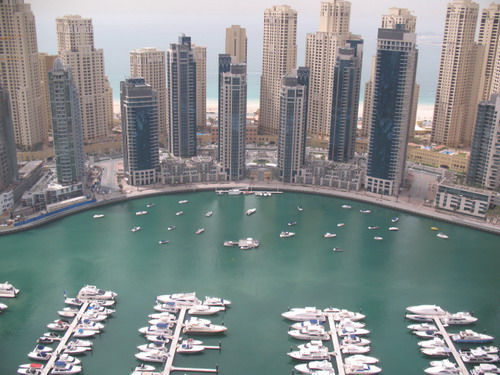 ABOUT DAMAC
DAMAC Properties was established in 2002, as a private residential, leisure and commercial developer in Dubai and the Middle East. Since then, DAMAC Properties has expanded rapidly into North Africa, Jordan, Lebanon, Qatar and Saudi Arabia.
DAMAC Properties has completed 36 buildings to date with 7374 units and spanning 13,132,484 sq feet with projects in Dubai such as The Crescent and Lago Vista at IMPZ, Executive Heights and Smart Heights in TECOM, Park Towers in the DIFC, Lake View and Lake Terrace at Jumeirah Lake Towers, Business Tower and XL Tower at Business Bay, Emirates Gardens and Tuscan Residences in Jumeirah Village and Ocean Heights, The Waves and Marina Terrace at the Dubai Marina.
DAMAC Properties also has a further 50 buildings at various stages of progress across the Middle East, North Africa region. These consist of 9849 units, spanning 16,886,151 sq feet.
In June 2010, DAMAC Properties further reinforced its position as a premium developer with the launch of DAMAC Tower in Beirut, Lebanon. A 28 storey iconic tower, this project is in association with Italian design group, VERSACE, with all interiors being designed by Versace Home. This was followed by the DAMAC Residences with Interiors by Versace Home, launched in Jeddah, Saudi Arabia in June 2011.
For further information:
Contact Afolabi. Mob: +2348065469182 BB: 21D087B6 Email:  [email protected]
Contact James. Mob: +447787705873, Email: [email protected]