Aliko Dangote – Africa's Pride In Entrepreneurship
Few have transformed Africa's landscape like Dangote has done and still doing. He has broken the stereotype and brought succor to thousands through job creation while adding to shareholders' value.
He strikes us as the most unusual person to have made such monumental impact in Africa's market thereby writing his name in the sands of time. As a self-employed person, with minimum basic education, he accentuated that business success can be attained by determination, honesty and perseverance even when we are not holders of the highest degrees or from elite schools globally.
1957 will remain a landmark year in the annals of Nigeria's history as that was the year he was born in Kano. It was his grandfather, the late Alhaji Sanusi Dantata that provided him with a small capital to start his own business, as was customary then.
As a result he began business in Kano in 1977 by trading in commodities and building materials. He would later move to Lagos in June 1977 and continued trading in cement and commodities. He was encouraged by his initial success and more successes flooded in and that led to the incorporation his companies in 1981.
His managerial skill is just stunning and could be said to be the stuffs of only the great. It wouldn't be surprising to hear he is being studied as a case study in managerial excellence. Sure that will stir envy and anger among managers and professors alike.
Dangote has treaded business landmines and have come out unscathed. He took on the dicey manufacturing/production sector and conquered it. He is the founder and president of Dangote Group and currently the richest man in Nigeria and the richest black man in Africa, according to the Forbes magazine. Aliko Dangote is currently ranked 463 in the 2010 Forbes Rich List, Forbes Magazine annual listing of the world's billionaires, with a current net worth of $2.1Billion.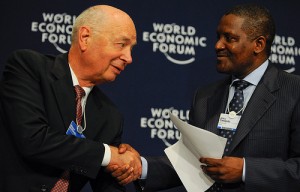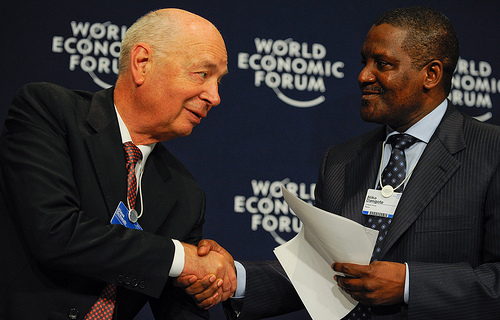 He companies span nearly all sectors of the economy with operations in manufacturing, food and beverages, oil and Gas, transportation etc. As one of the major importers, he imports about 70 per cent of the total requirements of the country and is a major supplier of the product to the manufacturers of Coca Cola, Pepsi Cola and Seven-Up in Nigeria.
His company also imports rice, cement and fertilizer and building materials but presently has successfully branded itself as the biggest cement manufacturer in Africa. This group also is known to exports cotton, cocoa, cashew nuts, sesame seed, ginger and gum Arabic to several countries.
More so, in his bid to give back to society he created the Dangote Foundation which is the philanthropic arm of the group. On CNN's new series i-List, he said, "Nigeria is really the best place to invest. It is one of the best places to make money. You know all over the world it is the best kept secret actually in terms of investment."
There he has been spending millions to promote entrepreneurship and a startup culture for Nigerians. While also, contributing to worthy causes in education, healthcare and community development, the group is noted to have a nationwide staff strength of 12,000 which is expected to hit 22,000 with the ongoing business expansion projects.
Key to Success
Leverage technology and economies of scale, utilize and leverage strategic alliance and linkages with key industry players, bring-your-own infrastructure strategy, Merger and acquisition, secured government support, R&D, and aggressive marketing campaigns.