Emerging markets now a much safer bet – Mobius
By
admin
on July 30, 2011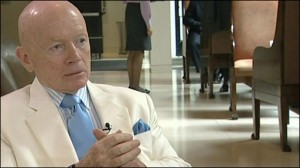 The U.S. dollar and Treasurys, which proved to be safe havens during the global financial crisis, can no longer be viewed as such because of the on-going debt impasse, renowned investor Mark Mobius told CNBC on Friday.
Instead, Mobius, who oversees about $50 billion as executive chairman at Templeton Emerging Markets Group said emerging markets were now a much safer bet.
"The debt crisis in the U.S. and Western Europe puts emerging markets in a very strong position because their debt to GDP ratios are much lower than the developed countries and their foreign reserves are greater than the developed countries," Mobius said.
Mobius believes a shift is under way towards emerging market stocks and said that he was bullish on commodities and gold
"Commodities are a very big part of our portfolio because we believe in dollar terms that commodity prices will continue to trend upwards," Mobius said.
Despite the debt crisis and a pullback in purchasing managers indexes in the U.S., India and China, Mobius said investors shouldn't be worried about another global recession.
"The consumer is alive and well and kicking both in the U.S. and in emerging markets, so I'm not too frightened. The consumer has lots of cash to spend and they want to spend, because they don't want to hold currencies," Mobius said.
Within emerging markets, Templeton has been focusing on equities in China, India and Russia, where benchmark indexes had so far lagged behind the broader group.
"If you're talking about slower growth in China and India, for example, you've gone from 9 to 8 to 7 percent, even 7 is tremendous growth," he added.
Mobius admitted that some emerging market stocks had gotten expensive, but he said he was most bullish on the retail sector, where he expected to see some consolidation, and on packaging companies, which were further upstream.
He added that Templeton was continuing to make a big push into frontier markets, in which the firm now has about $1 billion invested.
"We're big in Nigeria, we are big in Vietnam, we're big in Ukraine and many of these frontier markets are doing quite well and the good news, of course, is that they're still quite cheap," he said.
Mobius accepted that some frontier markets suffered from low levels of liquidity, but he said Templeton hasn't had any major problems because the markets were very different, and so, extremely uncorrelated.
CNBC