Airtel Introduces Special Complementary Service to Facebook Users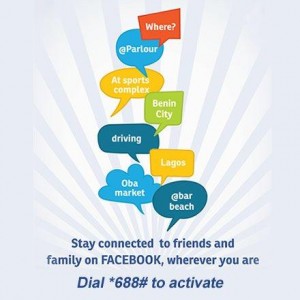 Customers of leading telecommunications services provider, Airtel Nigeria can now access popular social networking platform, Facebook via a USSD (Unstructured Supplementary Service Data) Code. With this innovation, Airtel customers will be able to launch Facebook on their mobile devices by dialing *688#.
According to Airtel, Facebook via USSD service aims to deliver Facebook to customers who have no access to the Internet. This new service will empower customers to connect with their family and friends anytime, anywhere on Facebook without using the internet or activating GPRS capabilities on their mobile devices.
Speaking on the new initiative, Chief Marketing Officer, Airtel Nigeria, Olu Akanmu said Airtel is committed to enabling Nigerian youths connect to their friends and have all the fun they desire on-line through the most compelling innovative services in the Nigeria market. "At Airtel, the quest for total satisfaction of our customers drives us to continuously respond with customized offerings and services that will delight and engage telecom consumers. We will always occupy the front row in innovation that will enable Nigerians to build great bonds of friendships and fulfill their life aspirations. Airtel is committed to making the immense benefits of Facebook available to the widest number of Nigerians," he said.
With the USSD service, customers can carry out the following activities from their mobile devices: Update Facebook status messages; View, like and comment on posts; Post on friends' walls; find/add friends; confirm friend requests; view notifications and View and send messages.