JTF releases two vessels suspected of illegal bunkering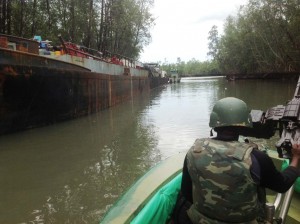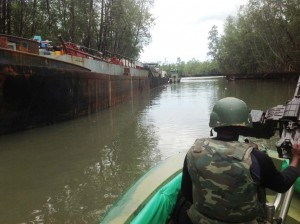 ) The Joint Task Force (JTF) operating in the Niger Delta region has freed two suspected vessels carrying diesel.
The task force said that one of the vessels was carrying 282,000 litres of diesel worth N46.53 million.
The JTF Commander, Maj.-Gen. Iliyasu Abba, announced the release of the vehicles on Monday during the release of the two vessels to its owners in Bonny Island, Rivers.
The two vessels, identified as MV Ebba and MT Askja Rotterdam, were arrested along the creeks in Rivers on suspicion that they were transporting petroleum products without permit.
Abba, represented by Maj. Badmus Adebayo, also announced the release of nine crew members from the two vessels to their employers.
"MV Ebba, which had 282,000 litres of diesel was arrested in October 2013 on suspicion of involvement in illegal oil bunkering activities in the Niger Delta.
"Also, MT Askja was arrested in June 2013 due to its suspicious movement and because it anchored without permit.
"Following the arrest of the vessels by our troops on surveillance patrol, investigation was launched with the testing of the products to authenticate its validity and source.
"After thorough investigations were conducted; the Defence headquarters ordered the release of the vessels and so the owners are hereby encouraged to continue in their legal trade," he said.
Abba said that the task force would continue to hunt oil thieves, pipeline vandals and sea pirates till it rid the region of attacks on oil installations.
He said that the fight against illegal bunkering activities in the Niger Delta was the responsibility of every Nigerian so as to ensure the nation's economic growth.
The commander called on the public to report anyone found to be involved in oil theft and pipeline vandalism to security agencies in the state.
Reacting, an official of Ideki Services, owners of MT Askja Rotterdam, Mr Abraham Idabubeleye, expressed delight over the release of the vessel.
He said it was wrong to assume that owners of marine vessels carried out illegal bunkering in the Niger Delta .
He said the release of the vessels should change the view because there were several marine investors who carried out their services legitimately.
Idabubeleye commended JTF for its "transparency and speed" in its investigation, saying the JTF meant well for the country's economy. (NAN)