Sovereign Wealth Fund is to shield Nigerian economy – CBN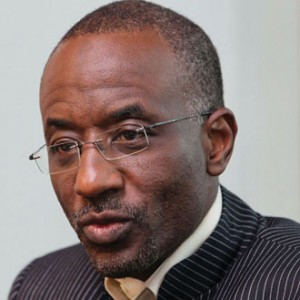 Mallam Sanusi Lamido Sanusi, Governor, Central Bank of Nigeria (CBN), says the Federal Government established the Sovereign Wealth Fund (SWF) to shield Nigerian economy from adverse global shocks.
Sanusi, who made the remark at the Euromoney Conference in Lagos on Thursday, said that the fund would shield the economy in the event of total crash of global oil price.
The News Agency of Nigeria (NAN) reports that the fund is about one billion dollars (more than N150 billion).
The fund is being invested overseas in real and financial assets such as stocks, bonds, real estate, precious metals, among others.
"The Sovereign Wealth Fund and the excess crude account are amassing a buffer that will stabilise the economy.
"The Sovereign Wealth Fund was created to redistribute oil wealth for the benefit of the present and future generations.
"It will also help in providing critical social infrastructure to stimulate private sector investments for economic growth," Sanusi, who was represented by Dr Kingsley Moghalu, Deputy Governor, CBN, he said.
Sanusi said that due to the various reforms, the nation's external reserves had increased from 44.2 billion dollars in December 2012 to 46.9 billion dollars in August 2013.
He said that Nigeria had become on investment destination in recent years because of its steady economic growth and favourable economic policies.
"Total investment on GDP was 22 per cent in 2012 and we have a projection of 23.6 per cent for 2013.
"Inflation rate was 8.7 per cent in July and it is projected to remain within single digit band in 2014.
"The Asset Management Company of Nigeria (AMCON) is consistently addressing the issue of loan repayments and the restructuring of bad debts in commercial banks.
"This has created a safer and less risk-prone banking system in the country," he said.
The apex bank governor said that the government was also focusing on public-private partnerships that would drive the economy towards higher returns on investment.
"The recent unveiling of special banks is to lend money at a low interest rate to the agricultural sector and micro, small and medium enterprises to enhance their growth," he said.
Sanusi said that Nigeria had competitive edge in the global capital economy in spite of the recent global financial economic crises that had adverse effects on major economies in the world.
Mr Christoper Garnet, Director, Euromoney Conferences, expressed optimism that Nigeria would achieve a double-digit economic growth in the nearest future.
Garnet said that there had been a remarkable economic growth in the last few years in terms of infrastructure and political stability.
According to him, the nation's focus on foreign direct investment, stability of the banking sector and proper utilisation of its high population would contribute immensely to the growth of the economy.
He said that Euromoney would present the nation's economic growth indexes on a platform that would attract more investors to the nation.
The theme of the conference was: "Competing for Capital in the Post- Crisis Era." (NAN)