Jonathan to ring closing bell at New York Stock Exchange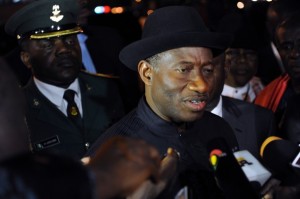 President Goodluck Jonathan will on September 23, become the first Nigerian leader to ring the closing bell at the New York Stock Exchange, NYSE, DailyPost can authoritatively report.
The Nigerian Ambassador to the United States, Prof. Ade Adefuye, had in a statement disclosed that Mr. Jonathan will meet with key industry players in agriculture, power and infrastructure during his stay in the country.
The Diplomat also noted that investors would be provided with information on the steps that the government had taken so far to attract foreign investments.
He disclosed that a team of Nigerian Ministers, led by the Coordinating Minister of the Economy, Dr Ngozi Okonjo-Iweala, would be in Washington on September 20, to further underscore the positive changes the government had made.
DailyPost was reliably informed that some top government officials that will make the trip include Minister for Trade, Industry and Investment, Segun Aganga, Minister for Petroleum Resources, Diezani Alison-Madueke, Ag. Minister for Foreign Affairs, Prof. Viola Onwuliri and Director-General, Nigeria Stock Exchange, Arunma Oteh
Our source in New York added that Mr. Jonathan would hold meetings with top executives of companies doing business in Nigeria. They are Coca Cola, General Electric, Procter and Gamble, Chevron, among others.
Relatively, Mr. Jonathan and United States President, Barack Obama, will meet next week in New York.
Both leaders will also be addressing the annual United Nations General Assembly next Tuesday; UN and Nigerian official sources had disclosed over the weekend.
Last month, a top U.S. Government official, Ms. Wendy Sherman, leading the American delegation to a U.S-Nigeria Bi-National Commission in Abuja, had presented to Jonathan a letter from his American counterpart, reviewing the diplomatic relationship between both countries and inviting the former to a meeting in New York.
The meeting bewtween the duo is to calm nerves in the wake of Obama's snub of Nigeria during his recent trip to Africa.