Lagos To Demolish 30 Houses In Ebute Meta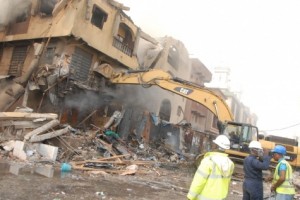 The Lagos State Government has marked 30 defective buildings for demolition at Ebute-Metta area of Lagos, Southwest Nigeria.
The action follows the collapse of a building in the area last week in which eight people died.
General Manager, Lagos State Building Control Agency, LABCA, Mrs. Animashaun Odunayo, who disclosed this, called on stakeholders in built industry to team up with the agency in its war against building collapse, saying government was determined to stem the tide.
According to her, the collapsed 3-storey building at 29 Oloto Street, Ebute Metta, that killed one-year-old baby, a couple, and a pregnant woman, a nursing mother, among ohers was defective.
In recent time there had been frequent cases of collapsed buildings across the Lagos metropolis. Two months ago, four buildings collapsed in the state within one week killing several people and injuring many.
In Ojodu area of Lagos, a 4-storey building under construction collapsed and killed seven people working on the building. The building was being built without approval from the state government.
In the same week, two buildings collapsed the same day at Bariga and Ikorodu, with two people losing their lives in the process.
As a result of incessant building collapse, Governor Babatunde Fashola set up a panel to look into the incidents and proffer solutions.
In dealing with the situation, Commissioner for Physical Planning and Urban Development, Toyin Ayinde, also announced that government banned developers from working on building construction on weekends, public holidays and at night because "some unscrupulous developers and builders embark on illegal construction work at weekends, public holidays and even at night."
Ayinde said that the state government would soon begin compulsory integrity test on buildings and construction materials before construction in order to identify and bring down distressed buildings.